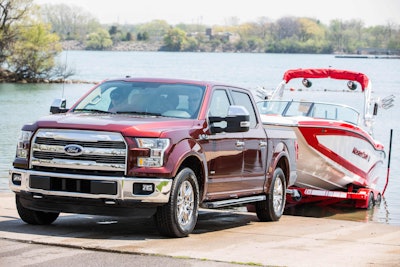 Ford has been named Best Value Truck Brand in America for the second time by Vincentric, an automotive data analysis firm that specializes in lifecycle cost measurement.
Ford first earned the truck brand award in 2013.
The F-150 won the Best Value in America award among full-size half-ton pickups for the fifth time – reclaiming a title it held from 2011 through 2014. The F-350 Super Duty was honored for the fifth time with the Best Value in America award for the full-size one-ton pickup segment. It had previously won in 2010, 2007, 2006 and 2005.
HWT Related: 2016 Black Widow F-150 and Silverado unveiled at NADA
The Vincentric Best Value in America awards are model-specific honors that determine the best value in each segment. Value is determined using a statistical analysis that incorporates the total cost of ownership of all vehicles for the 2016 model year, along with the current market price of those vehicles.
In the model-level analysis, results are compiled using nine different scenarios based on combinations of annual driving mileage (10,000, 15,000 and 20,000 miles) and driving experience (three or fewer years, four to six years and more than six years).