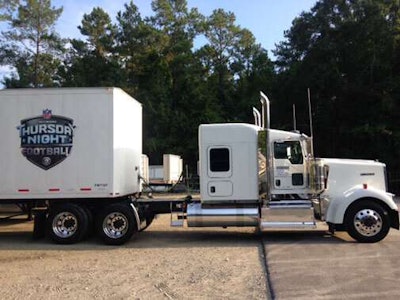 MHC Truck Leasing leased its first ICON 900 truck to Filmwerks International, a high-end entertainment support company that handles support for pre-game events during the NFL's Thursday Night Football games this year.
Filmwerks offers nationwide service, with locations in California, Florida, Illinois, New York, North Carolina, Tennessee and Texas. The company's maintenance team, office staff and field technicians work collectively to provide equipment and personnel for high-end broadcasts and live events such as the US Open, NCAA Final Four and concerts for well-known musical performers.
"We work a lot of high-profile events, so finding the right vehicle that would make us look good while offering a bigger wheel base was important to us," says Filmwerks General Manager Chad Corbin said. "We also needed a truck that was already on the ground because we didn't have time to build it. Leasing the ICON 900 from MHC was the perfect fit for our requirements."
The new ICON 900 with a 72 inch flat top sleeper and 18-speed transmission features and a trailer with custom NFL decals plastered on it. The truck made its debut at the Kansas City Chiefs vs. Denver Broncos game at Arrowhead Stadium in September, and will continue to support Thursday night games for the next three years and will also be at Super Bowl 50 in San Francisco in February.