While it may be true that one machine can do the work of fifty ordinary men and yet no machine can do the work of one extraordinary man, Jim Barr knows the benefits that a technologically superior product can bring to a small business.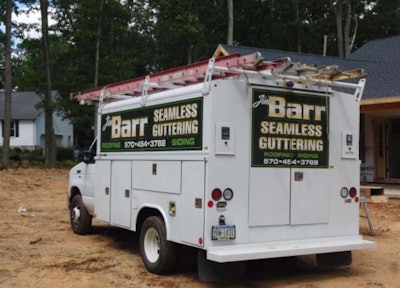 Barr is an independent roofing and siding contractor based in Hazelton, Penn., in business for over 25 years. After 14 years of service the daily wear and-tear, his steel body work truck was starting to falter. After a year of contemplation, Barr decided that he was ready for a new one.
"After looking at a lot of trucks that other contractors had, I picked out the things I knew I wanted, and other things I didn't. I knew exactly what I was looking for and I was on a mission to find it," Barr says.
Craig Bonham, Vice President of Business Development at Reading Truck, received word that Barr was in the market for a new truck. Barr was able to describe exactly what he needed to Reading: improved fuel mileage, larger compartments and improved visibility.
Bonham suggested a modification to the built-in external cabinetry units that were previously mounted to his old work truck. The recommendation made a world of difference – of up to 800 lbs. of added payload capacity.
"I immediately noticed how much it improved my work efficiency – I no longer have to run in-and-out of my truck to grab the tools that I need," Barr says. In addition to the new cabinets that allow Barr to better manage his time, his work truck features some unique technology. All of the cabinets are illuminated when opened and automatically turn off after a period of inactivity. His truck is hooked up with Reading's Latchmatic SmartShield remote locking system, allowing him to safeguard his vehicle and tools at all times.
While Barr's previous work truck had back windows, he was able to eliminate them and deter potential break-ins. The installation of rear-view back-up cameras assist in gauging distances with more ease.
"Because of its new design, I can enter my garage with 4 inches to spare (in comparison to 1 inch), and I am able to navigate on-the-road with more confidence because I can see what's behind me," Barr says.