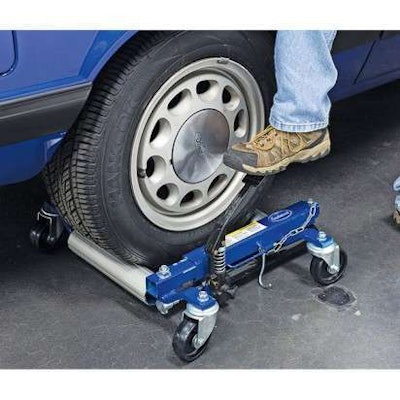 The Eastwood Company has launched Hydraulic Wheel Dollies that lift the vehicle's wheels off the ground which makes moving vehicles around the tight confines of a shop easy.
Each Eastwood Hydraulic Wheel Dolly can lift up to 1300 lbs, and work with tires up to 12 inches wide.
Featuring heavy duty ball bearing casters, these dollies allow vehicles and equipment to be easily maneuvered around most paved and concrete surfaces.
Hydraulic powered tire grab/lift action and foot pedal simplify the lifting process.
"Maneuvering vehicles around the garage on a floor jack is unsafe," said Nick Capinski, Eastwood Director of Product Solutions. "These hydraulic wheel dollies make it easy and safe to move your pickups and other vehicles around in the garage, even in tight spots."