Kiessling Transit has purchased 35Lightning Hybrids hydraulic hybrid systems, which the company says demonstrated improvements of 30 percent in fuel efficiency and significantly reduced NOx emissions during a year-long pilot program with the leading Massachusetts-based transportation company.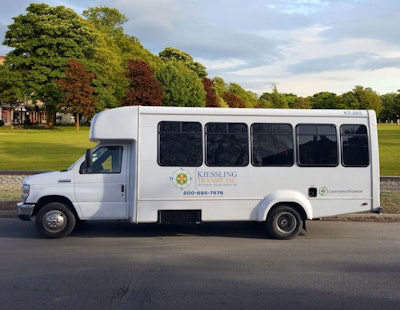 Kiessling Transit's 2015 and 2016 model year Ford E450 chassis and Elkhart Coach bodies, will have the Lightning Hybrids parallel hybrid system installed prior to delivery this summer. The technology, which has no electric batteries, applies a hydraulic system to the driveline of a vehicle to regenerate braking energy. Hydraulic pumps and a lightweight accumulator store braking energy and use the stored energy to power the wheels.
The application of this technology will result in improved emissions, less fuel use, longer brake life, better low-end torque, and lower maintenance and operational costs.
"This partnership with Kiessling Transit is a significant milestone for Lightning Hybrids and a testament to the success and benefits of our system in providing a cost-effective and elegant solution for large fleets," president and co-founder of Lightning Hybrids Tim Reeser says of the company's largest order to-date. "Kiessling Transit…was one of the first customers to trial our technology for over a year. This program will demonstrate that it's possible today to make existing fleet vehicles significantly cleaner and more efficient with a high-tech, computer controlled system built on proven and sustainable hydraulic technology."