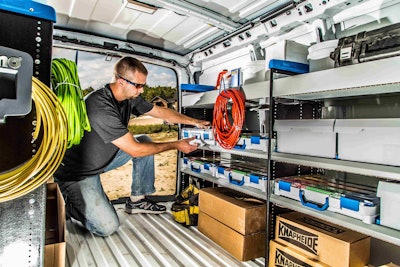 Sortimo says it will release this week new van interior vocational packages and accessories at the 2015 Work Truck Show, built off the company'sExxpand product launch in 2014.
As part of the Exxpand line of products, Sortimo by Knapheide has developed ProPaxx vocational packages for Plumbing/HVACR, Electrical, and General Service applications. ProPaxx packages are designed to work as add‐on upgrades to the existing Exxpand base packages allowing for simplified ordering and enhanced customer efficiency and value. ProPaxx packages will be available for all of the commercial vans available on the market today.
"After the successful launch of Exxpand, we identified the need for vocational‐ready packages. ProPaxx packages provide increased organization and productivity for a broad range of industry trades," said Haily Meyer, Product Manager.
In addition to ProPaxx packages, numerous new Sortimo by Knapheide Boxxes and Axxessories will also be introduced this week. These Boxxes and Axxessories enable customers to further customize their storage spaces and increase their overall productivity. As always, all Sortimo by Knapheide products are supported by full warranty protection and a nationwide network of distributors and dealers.