[youtube Be_ppU3xATY nolink]
2015 Ram Laramie Limited take opulence to new high; black-tie luxury for affluent buyers
Business owners who love their trucks, yet want to ride in the ultimate lap of luxury can have both now that Ram Truck has a new model coming to town that oozes rich: the 2015 Ram Laramie limited. It debuted today at the 2015 Chicago Auto Show.
"Among Ram Truck's greatest strengths is our ability to quickly react to customer demand," said Bob Hegbloom, President and CEO, Ram Truck Brand — FCA US LLC.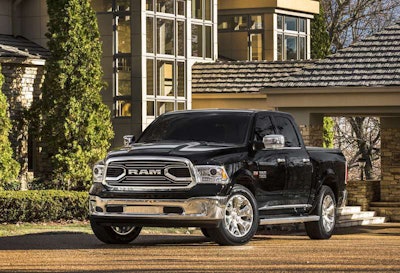 "The new Laramie Limited trim is a perfect example of how Ram directly responds to customer input with the highest level of luxury available in pickups," said Hegbloom. "The Laramie Limited trim exceeds the high expectations of affluent truck buyers by combining capability with refinement."
The upgraded interior and exterior trim aligns with a long list of best-in-class titles under the Ram moniker, including fuel economy, payload, torque and towing capacity. The new Ram trim, available on the1500, 2500 and 3500 models.
Featuring premium materials, such as an all-black, full-leather seating, real wood interior components and unique badges, Ram Laramie Limited is a "black-tie" luxury alternative to the popular southwestern-themed Laramie Longhorn edition pickup.
"Today's high-end Ram pickups have more features than select luxury sedans," added Hegbloom. "We will continue to strive for the highest levels of sophistication, while keeping the core needs of a truck owner top of mind."