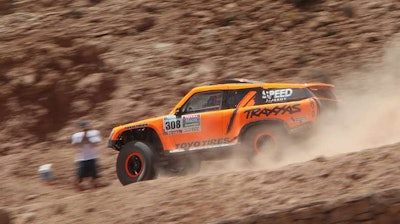 Robby Gordon saved his best for last in the 37th Dakar Rally, earning his 10th career stage victory in Saturday's final race in Buenos Aires and finishing the grueling off-road race in 19th place out of 137 entires.
Only 67 race vehicles finished the event.
Gordon dominated Saturday's event – the shortest stage of the Rally – proving the speed and reliability of the Traxxas/Toyo Tires Gordini that the team knew existed.
He and navigator Johnny Campbell crossed the finish line with a time of 13 minutes and 16 seconds, 25 seconds faster than second-place finisher Leeroy Poulter of South Africa. Emiliano Spataro of Argentina finished third, 29 seconds behind Gordon.
The win marks Gordon's first victory in his HST Gordini – the custom car he developed and manufactured in 2013 specifically for the Dakar Rally.
Gordon's 10 career stage victories make him the most accomplished American driver in the history of the race. His first career stage win in 2005 marked the first time an American driver earned a victory in the world's most enduring rally race.
Gordon's overall Dakar Rally time of 48 hours, 20 minutes and 5 seconds was good for 19th place.
He completed the 2015 Rally with five top-10 finishes, including a second-place finish in the opening stage and a third-place finish in Stage 5.
Mechanical issues during the second and fourth stages placed the team more than five and a half hours down to leader Nasser Al-Attiyah of Qatar.
Al-Attiyah won the overall Dakar Rally Championship in a MINI with a combined time of 40 hours, 32 minutes and 25 seconds over the more than 9,000 kilometer, 13-day route.
The final stage of the Dakar Rally will be highlighting on the NBCSN recap show at 4:30 p.m. ET on Sunday.