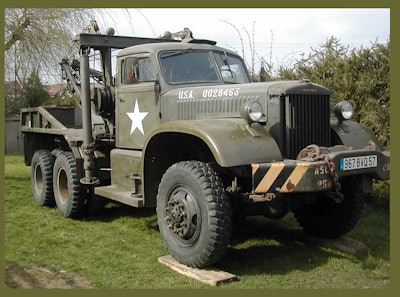 French resident Thierry Becker has begun his latest vehicle restoration project, a U.S. World War II military wrecker built in 1942.
The U.S. Army used the Diamond T 969, a 6×6 wrecker with 10-ton lift capacity, to lift and tow disabled vehicles. Like other military trucks, it saw heavy duty under harsh wartime conditions in Europe. The French army acquired the Diamond wrecker after the war and used it for many years.
But after seven decades, not everything on the truck needed an overhaul. Becker says the truck's original Timken axle bearings remained in good operating condition. The bearings on the 1942 Diamond T 969 wrecker were in such good shape that Becker needed only to replace the oil seals on the axles.
Seals for a part that is 70 years old aren't just sitting on the shelves at your local retailer, so Becker reached out to Timken, who provided them as a gift.
"It was amazing to see this truck still running on the original Timken bearings after more than 70 years," says Becker, whose hobby is collecting and restoring American military vehicles from the Second World War. "When you think about what the Diamond went through on the battlefields of Europe, and in the truck's life after the war, it's a real surprise the bearings weren't rusted or worn out."
Becker was born in Bousbach, a village in the Lorraine region of northeastern France, near the German border. He now lives in Woustviller, only a few miles from Bousbach. Restoring U.S. military vehicles is his passion, and he does it to preserve the memory of American soldiers who took part in the liberation of Europe – including Bousbach in late 1944 – from Nazi occupation.
"My job as a collector is to bring the Diamond back to its original World War II condition," Becker says. The truck is in relatively good shape. He is working primarily on the engine, gearboxes, axles, body and cab. He also will give it a new paint job.
"The truck is the highlight of my collection since it's the biggest and a very rare vehicle," he says. As with his other vehicles, Becker plans to drive the Diamond wrecker to collectors' reunions, historical events and World War II commemorations. He hopes to complete the restoration in time to take his truck to the event commemorating the 71st anniversary of the D-Day invasion at Normandy in June 2015.
As a 13-year-old in 1982, Becker restored his first vehicle, a jeep, with his father's help. In 1987, he bought his first truck, a 1942 GMC CCKW353 cargo vehicle. Becker has completed seven vehicle and three trailer restorations in 32 years. His eighth will be the Diamond T 969, which he began restoring in 2009.