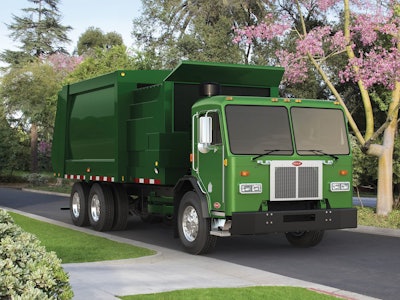 Peterbilt Motors Company has announced a new right-hand stand-up configuration of its recently redesigned low-cab forward Model 320 introduced last year.
"Industry-wide reception of the new Model 320 has been outstanding and we're pleased to be expanding its versatility by offering it in a right-hand stand-up configuration," says Robert Woodall, Peterbilt Director of Sales and Marketing. "Customers engaged in curbside refuse collection who prefer this type of configuration will now enjoy the many advantages of the Model 320's best in class operating environment."
The Model 320 is available in left-hand drive, right-hand drive and dual drive with right-hand stand-up configurations.
"Refuse collection routes require the operator to enter and exit the vehicle numerous times during his or her shift. The stand-up configuration makes ingress and egress easier and results in less driver fatigue," says Woodall.
In addition to the numerous amenities standard with the new Model 320 interior, the right-hand stand-up drive option includes convenient array of controls and displays, including the selector switch to activate the right-hand drive station; Lowered entry step for ease of entry and exit; Angled steering column for improved ergonomics and driver comfort; Large upper and lower side-door windows for excellent visibility; HVAC and radio controls in the header of both the right- and left-hand stations; Multi-function turn stalk; Easy-to-reach door handle; and pivot-style seat for easy stowage during stand-up operation.
The new Model 320 went into production late last year with a floor-to-ceiling redesign of the interior. Among its many features are a new instrumentation panel with LED backlit gauges; Peterbilt Driver Information Display that provides real-time communication of vehicle performance and diagnostics; easy-to-reach instrumentation; and increased visibility, including rear cab corner windows.
"The Model 320's ProBilt interior was designed to maximize driver performance and provide exceptional durability in the often harsh conditions these vehicles operate in," says Peterbilt Chief Engineer Landon Sproull. "It was completely re-engineered to make operators as comfortable and productive as possible."
Sproull said the dash is manufactured using an in-mold process that embeds color directly in the material for a long-lasting finish that is virtually immune to fading, scratching and peeling. Serviceability is also enhanced with removable dash panels that allow easy installation and access to body controls.
In addition to unparalleled fit and finish, Sproull said extensive research and development resulted in a highly ergonomic design. "Every aspect of ergonomics was considered, including lighting," said Sproull. "The cab features extensive use of LED lighting, including two directional dome lights, two over-the-door lights and one large light on the back wall."
Other features of the ProBilt interior include consistent heating and cooling with an improved HVAC system; Four-speaker ConcertClass sound system; Large, multi-purpose center console; Abundant storage space; USB and 12VDC charging outlets; Optimized pedal layout; Vertical-parked windshield wipers; Heated seats; Tilt/telescoping wheel; and padded door panels with power window and mirror controls.
Peterbilt also offers a wide range of natural gas powered refuse vehicles, including the Models 320, 567 and 579.
The Model 320 with right-hand stand-up drive is available for order now.