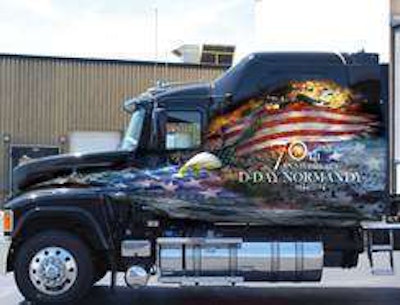 Mack Trucks employees will pay tribute to America's fallen and missing military personnel during the upcoming Memorial Day weekend Rolling Thunder – Ride for Freedom rally.
Mack Customer Center and Macungie Cab & Vehicle Assembly employees will travel by truck and motorcycle from Pennsylvania's Lehigh Valley to Hagerstown, Md. for a memorial ceremony at the company's powertrain plant.
Following the ceremony, Lehigh Valley and Hagerstown employees will ride to Washington, D.C., where they'll join thousands of participants for the 27th annual rally. The Mack Pinnacle Axle Forward model used as a tribute truck features graphics commemorating the 70th anniversary of the Allied invasion of Normandy, the largest seaborne invasion in history.
The custom design pairs land, air and sea D-Day images with images of an American flag, bald eagle and Arlington National Cemetery.