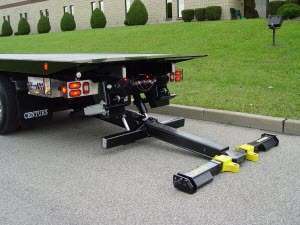 Miller Industries has introduced a new model of its 30 Series Low Center of Gravity (LCG) industrial carrier with a 30,000 lb. deck capacity and 10,000 lb. under-lift/dock stabilizer combination.
The company says the carrier is designed for a dual rear wheel chassis with either tri-axle or a tandem with a lift axle configuration. Deck lengths range from 26 feet to 30 feet and require a longer wheelbase than standard carriers to reduce rear overhang and better distribute heavier loads.

Miller Industries says the LCG lowers the deck height to provide increased stability along with the ability to transport taller loads. A 20,000 lb. planetary winch with air shift release is standard along with a quarter-inch diamond deck plate floor.
Optional smooth plate, wood or rumber floors are available.