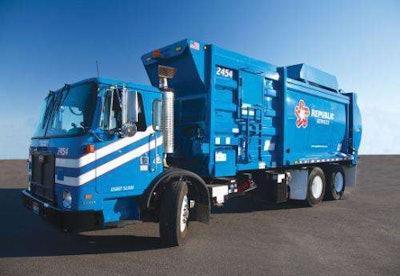 This month, Republic Services, Inc. deployed an additional 49 Compressed Natural Gas (CNG) solid waste and recycling trucks in the greater Houston, Texas area.
The company says has introduced a total of 104 new CNG trucks in and around Houston within the past year, replacing older diesel powered trucks.
Last month, the company announced the deployment of 53 CNG trucks to serve customers throughout the Charleston, S.C. metro area. Republic operates a fleet of more than 1,400 CNG vehicles and 26 natural gas fueling stations nationwide. Approximately 50 percent of all Republic vehicles purchased in 2013 are powered by the domestic fuel source.
"We are serious about reducing ozone-forming emissions whenever possible," says Greg Rutherford, area president of Republic Services. "The new trucks represent a significant investment in the local environment, as well as in safer and more efficient operations. Our employees are proud to live and work here, and we are excited to do our part to leave a cleaner and healthier community for future generations."
Republic installed two natural gas fueling stations to support its CNG fleet in greater Houston. Natural gas fueling stations enable CNG trucks to fuel during non-peak hours, which has the added benefit of reduced energy consumption during the refueling process.