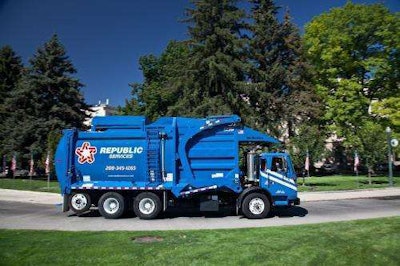 Republic Services, Inc. announced Thursday that the company has deployed 53 Compressed Natural Gas (CNG) solid waste and recycling trucks to serve customers throughout the Charleston, S.C. metro area.
The new CNG fleet will replace older diesel powered trucks, and helps the company reduce its carbon footprint, area president James Amick says.
"We believe it is our responsibility to reduce ozone-forming emissions wherever possible," he says. "Charleston is home to a diverse environment with considerable natural beauty. Our employees are proud to live and work in this community, and we are excited to do our part for the local environment."
Republic installed a natural gas fueling station to support its new fleet of CNG powered trucks in Charleston. Natural gas fueling stations enable CNG trucks to fuel during non-peak hours, which Amick says has the added benefit of reduced energy consumption during the refueling process.
According to the U.S. Environmental Protection Agency, each new CNG solid waste and recycling truck reduces ozone-forming emissions by as much as 80 percent when compared to older diesel powered trucks. In addition, each new CNG truck deployed is equivalent to removing five passenger vehicles from local roads for one year, or to adding 600 mature trees into the local environment.
Republic operates a fleet of more than 1,400 CNG vehicles and 26 natural gas fueling stations nationwide. Approximately 50 percent of all Republic vehicles purchased in 2013 are powered by natural gas, the company says.