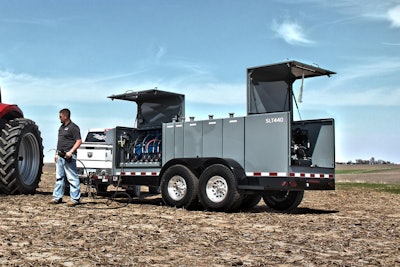 Thunder Creek Equipment, a manufacturer of fuel and service trailers, has introduced a new trailer designed specifically for in-field equipment service.
The trailer holds 440 gallons of fluid in combinations of 25, 55 and 110 gallon capacities and can be configured with up to eight tanks, which can be used for various oils and lubricants, oil reclaim, as well as antifreeze, diesel fuel and diesel exhaust fluid depending on operational needs. Grease systems are also available.
The pumping systems are protected by two hatch doors located on either side of the trailer. Pneumatic pumps are powered by a combination compressor/generator located in the rear utility box. Owners can upgrade to Thunder Creek's Air N Arc 150, a combination 3-in-1 welder/air compressor/generator.
The front toolbox, located in the nose of the trailer, has a used filter drain pan and space for additional equipment needed to service equipment.
"This trailer is all about minimizing the time needed to service equipment in the field, without the capital investment that comes with a dedicated lube truck," said Mike VanderLinden, Product Engineer at Thunder Creek Equipment.
The service and lube trailer joins Thunder Creek's line of single- and double-wall fuel and service trailers and DEF delivery systems.