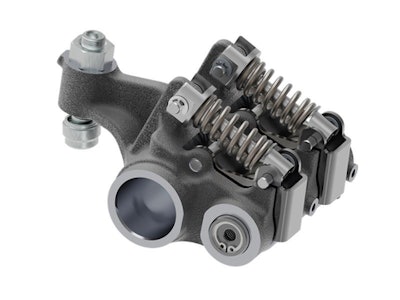 Eaton
Eaton announced this week that its Vehicle Group's cylinder deactivation (CDA) and late intake valve closing (LIVC) technologies have been proven to simultaneously reduce nitrogen oxides (NOx) and carbon dioxide (CO2).
The technologies were shown to be effective for meeting future global emissions requirements for diesel-engine powered commercial vehicles, according to a recent series of tests conducted by FEV, a recognized leader in design and development of advanced gasoline, diesel and hybrid powertrains and vehicle systems.
Testing measured fuel consumption and exhaust temperature, from which engine-out NOx and CO2 were determined. Results indicated the CDA created up to a 38% reduction of NOx compared with 13% for LIVC thanks to exhaust gasses temperature increase, which enables optimal emissions aftertreatment performance. The results were delivered while simultaneously reducing CO2 emissions.
[Related: Achates two-stroke, near-zero diesel engine rolls out to Walmart]
During the evaluation, the standard valvetrain on an 11-liter diesel engine was replaced with Eaton's variable valve actuation system able to deliver either CDA or LIVC functions. The engine was put on a dynamometer and tested in standard engine and in varying CDA and LIVC engine modes to determine optimal thermal management effects and fuel savings.
"Emissions regulations are driving the adoption of variable valve actuation solutions by our global commercial vehicle customers," said Fabiano Contarin, product director, Commercial Vehicle Valve Actuation, Eaton's Vehicle Group. "Our portfolio of technologies is helping manufacturers meet the upcoming regulations in a number of ways based on customer preference."
[Related: Cummins new bi-voltage 10-liter engine improves fuel economy, cuts emissions]
Eaton's CDA also resulted in a 3% decrease in fuel consumption in a low-load cycle, while LIVC lowered fuel consumption by 0.5%. Additionally, CDA in three-cylinder mode raised exhaust temperatures up to 175 degrees Celsius (347 degrees Fahrenheit) which helped increase the efficiency of a selective catalytic reduction (SCR) system.
The study results confirm earlier findings of tests conducted in the U.S. by Eaton and the Southwest Research Institute (SwRI), one of the oldest and largest independent, nonprofit applied research and development organizations. The findings of the U.S.-based tests found using CDA and a close-coupled selective catalytic reduction (SCR) catalyst reduced CO2 emissions by 4% in a low load cycle with NOx emission of 0.02 g/hp-hr.
"If a low-load cycle is a customer's focus, then CDA is the ideal technology," Contarin said. "LIVC, instead, provides lower benefits but in a wider range of the engine map, especially when combined with a higher compression ratio."