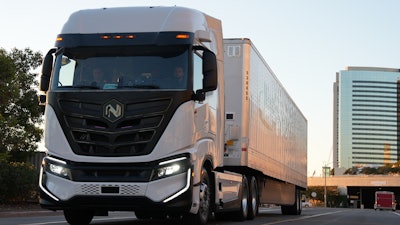 Autonomous truck technology startup Plus has found its first OEM partner in the U.S. – and it's another startup.
Hydrogen and battery electric truck manufacturer Nikola will make PlusDrive – Plus' lidar, radar and camera sensor and software-based safety system – a factory-installed standard for Nikola Tre battery-electric and hydrogen electric vehicles in the U.S., by the end of next year.
"We are one of the first OEMs to offer 100% electric steering paired with the ZF EBS braking system," said Nikola Corporation President and CEO Michael Lohscheller. "This base technology in all our vehicles, combined with Nikola's own internally developed vehicle controls, over-the-air updates and vehicle security can enable the integration of these advanced sensors and the realization of the PlusDrive safety system from Plus."
PlusDrive handles many mundane driving tasks, allowing the driver to take on the role of a pilot who supervises system operation on the highway. In normal highway traffic conditions, and while supervised by a truck operator, PlusDrive can autonomously handle lane centering, driver-initiated lane changes, traffic jam assist, predictive fuel optimization, adaptive cruise control (down to zero mph), lane merging, driver attentiveness detection, Operational Design Domain (ODD) checker, self-calibration, and over-the-air updates.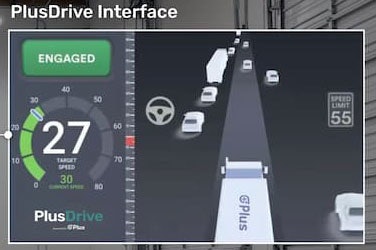 With Nikola's base technology, PlusDrive will moderate and predict optimal and the safest speed, while also taking full advantage of regenerative braking in traffic and slowing conditions. The vehicle is expected to keep the best position within the lane and account for other large vehicles and emergency vehicles.
Off the highway, the system will detect obstacles and traffic in blind spots. Other traffic, including motorcycles and pedestrians, will continue to be highlighted to provide drivers with their proximity information. The system is designed to work in all traffic conditions, including loading docks. The system will highlight pedestrians around the vehicle to help ensure safety of typical operations including loading and unloading, inspections and charging and fueling. Safe operation during high-power charging and hydrogen fueling will also be supplemented with detection and recording features.
Multiple fleets, including CCJ Top 250 for-hire carrier PGT Trucking (No. 93), have agreed to pilot the initial Nikola PlusDrive-enabled trucks later this year. Nikola is also establishing an Enhanced Driver Assistance Customer Council to collaborate with fleets and Plus to continue system refinement.
Global connections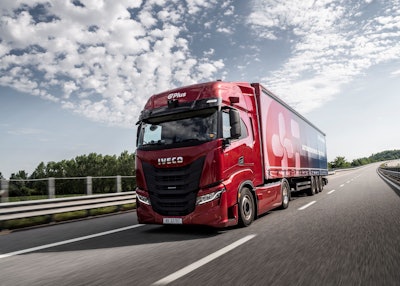 That Plus tapped Nikola for its first stateside factory-equipped partnership is of little surprise.
Plus and Iveco earlier this month announced the two companies will start public road testing of jointly developed, next generation, highly automated trucks in Germany.
The Nikola Tre Class 8 truck is built on the Iveco S-WAY truck architecture. Iveco and Nikola in 2021 kicked off a joint-venture manufacturing facility for electric heavy-duty trucks in Ulm, Germany, and Iveco parent CNH Industrial owns about 7% of Nikola.
As a part of the public road testing in Germany, the companies will collect road data to validate their autonomous truck's operations and start designing the potential factory production. The public road testing will expand to Austria, Italy and Switzerland in the coming months.