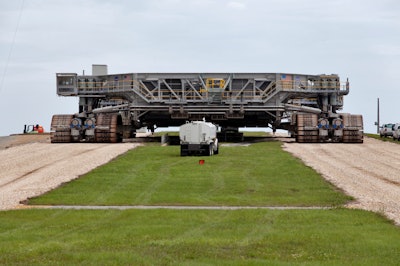 NASA
Driving trucks and construction equipment can be challenging. Driving the world's largest vehicle? Even more so.
NASA's Crawler-Transporter II, the massive rocket hauler which weighs in at 6.6 million pounds unloaded, comes with quite a learning curve that calls for a high skillset from both the driver and a team of specialists that go along for the ride at the Kennedy Space Center on Merritt Island, Florida.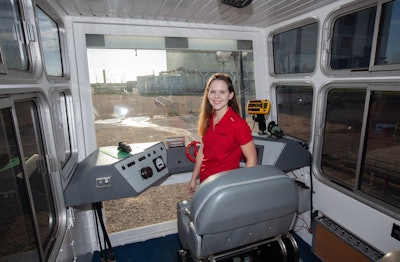 Twenty-four-year-old Breanne Rohloff, the crawler's youngest-ever and only current female driver, pointed out that while the giant machine is "very exciting to drive" it comes with unique traits that have to be mastered to ensure the successful delivery of a multi-billion dollar rocket. First up is speed. There's no pedal to the metal here. A dial is carefully rotated to the desired speed to ensure a slow and steady pace for a vehicle that tops out at 26 feet in height and spreads out far enough to fill a baseball infield.
"Typically we're not going any faster than .85, .82 miles an hour," said Rohloff who, like other crawler specialists, works for NASA contractor Jacobs. "We can be going as slow .3 miles an hour over the road or even slower depending on load and depending on where we are [on the Crawlerway], whether we're in a turn, whether we're crossing one of our asphalt roads or whether we're going up the pad slope. You'll go slower when you're doing those things."
Are we there yet? takes on new meaning with the crawler which inches along on four pairs of tracks. Each pair of tracks is called a truck and weighs in at one million pounds each (see photo below).
"The crawler can go so slow you can barely tell it's moving," said NASA senior crawler systems engineer and driver Sam Dove.
While a battered Yugo could run laps around the crawler, top speed is not the objective.
"It has the power to do two miles an hour, but you never want to do that because it is just too much for the crawler," Dove explained. "With the shuttle, we propel it at .9 [mph]. And with SLS (NASA's most powerful rocket yet) it's going to be about 0.83. Crossing an asphalt road will be no more than .35. On the slope, no more than .35 and on top of the [launch] pad, .25. Everywhere else is somewhere in between as the situation dictates. It's very smooth. You can speed it up, slow it down and it follows commands pretty well. It takes care of business and gives you a very smooth ride."
Steering by wire comes courtesy of a steering wheel that's only six inches in diameter. NASA takes a slip-seat approach to piloting the colossal rig but in this case the intense concentration needed at the wheel has drivers switching out roughly every hour. Drivers stand as they steer with another driver sitting behind them acting as another pair of eyes.
A big team effort
Vigilance is key when the crawler is underway. Roughly 30 people keep a close watch during the 4.2-mile trip to Launch Pad 39B. Some work inside the crawler tending to various systems while others walk with the vehicle and watch closely for performance cues like track function—a critical job considering a max payload of 18 million pounds. Drivers do not rely on GPS for steering but rather a group of spotters.
"You have a team of observers on the ground in front of you, to the sides of you and behind you," Rohloff said. "They're calling in what they're seeing because they have a better vantage point of where the tracks are pointed and your perspective is headed. You're listening to them as well as using your own visual piece."
Steering the crawler is nothing like steering a car or truck. Rohloff found that out quickly during her first time at bat.
"Just keeping it straight was difficult at first," she said.
Dove agreed.
"It'll get crooked on you if you don't watch it," he added.
The challenge with steering comes from anticipating the right moment to turn the wheel for the road ahead. Unlike driving a car or truck, the crawler takes its sweet time to reposition itself after turning the wheel. For a driver, that means the steering process starts about 50 yards ahead of a turn.
"It's not like a car where you have instant gratification with that steering wheel," Dove said. "I know to get through this curve, I've got to have six degrees of steering, but I've got to get it in. The crawler doesn't steer instantaneously.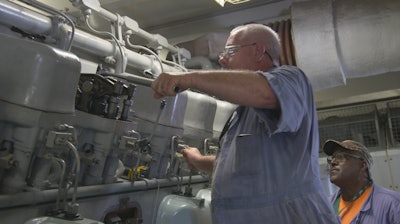 "It takes 30 or 40 seconds to get that steering in," Dove continued. "And you have to vary that because you can't over steer. If you command too much of steering, our safety systems will shut you down. So you have to steer a little bit. Wait. Steer a little bit. Wait. Steer a little bit. Wait. Steer a little bit. Wait and get that in."
Training for crawler drivers doesn't come easy.
"It's a long training program," Dove said. "Everybody gets an on-the-job training package where you have to go and you have to do some book work, and then you have to know how the things work in the cab. And then you have to practice driving…you make your mistakes, you wobble around a little on the crawlerway and you learn about going too fast on occasion and just how to keep it in the road basically. And you learn to mainly listen to your guys on the ground, your observers who are giving you directions and encouragement. You learn by doing."
For Rohloff, whose NASA internship led her to become the first woman in the Artemis program to pilot the world's largest land vehicle, driving lessons rose to a whole new level.
"It was a little nerve wracking at first but we have a good program," she said. "There's a lot of on-the-job training, a lot of mentoring from some of the more experienced drivers when you're first starting out and we tend to pick it up fairly quickly."