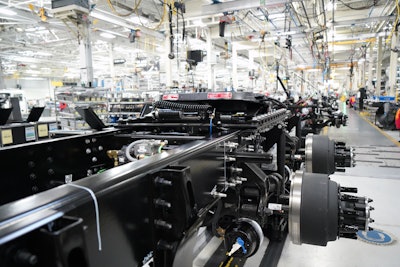 A global shortage of semiconductors will soon have an impact on new commercial truck builds.
Volvo Group, the parent of Mack Trucks and Volvo Trucks North America, said this week that the company will implement stop days across its global truck manufacturing operations beginning next month.
"Visibility into the global supply chain of semiconductors, as well as other components, is currently very low and the uncertainty about the development is high," the Group said via statement.
[Related: Semiconductor shortage is 'not even the biggest problem at some OEMs']
Assembly stoppages are currently estimated at between two and four weeks depending on production site.
"We expect Lehigh Valley Operations to be affected in Q2," Kim Pupillo, Mack Trucks' director of public relations, said of the site where Mack's heavy duty tractors are assembled. "At the moment, we believe this will mean some non-production days during the quarter. The situation is fluid. We're doing everything we can to minimize the impact, and we are maintaining the flexibility to increase production if the situation allows."
Volvo Trucks plant in Dublin, Virginia, is also affected by the supply-chain constraints facing the global industry, "including semiconductor shortages, as the truck demand is exceeding the supply," noted Mary Beth Halprin, Volvo Group North America vice president of public relations and corporate affairs. "We are monitoring the situation closely as these constraints will continue in the second quarter, and we will adjust our production if needed. We're working closely with our suppliers to minimize the impact on our customers."
Volvo Group is far from the only company feeling the squeeze from supply shortages. Ford said earlier this week it would drop a shift at its Kentucky Truck Plant, where its Super Duty pickups and full-size sport utilities are made, and will close a plant in Ohio that builds vans and trucks. The schedule changes are expected to last only a week.
Many OEMs are also partially assembling vehicles and storing them until parts become available.
Semiconductors are critical components in almost everything from engine to transmission controls, and the supply chain crunch comes as truck orders are booming. February 2021 was the second-highest total ever for the month of February, and orders for the previous 12 months now total 338,000 units.
[Related: Truck orders strong as fleets chase healthy freight rates]