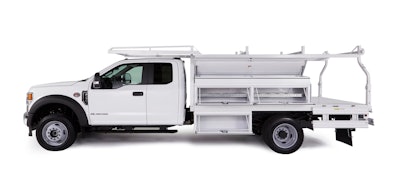 Reading Truck
Reading Truck has expanded its truck body line-up with the introduction of its new Contractor Body.
Reading Truck's new Contractor Body comes equipped with many of the features that customers expect from Reading Truck including A60 galvannealed steel construction, e-coat primer and powder coat finish.
"Our goal is to provide our customers with a flexible, safe, and durable design," said Eric McNally, vice president of sales and marketing at Reading Truck. "It's a really great option for our customers who are seeking a versatile workhorse that can be customized to meet their needs."
Available in 10- and 12-foot lengths, the Contractor Body is built upon Reading's heavy-duty platform body and includes standard features like a fork truck loadable material rack, 12 gauge hot-rolled deck plate, moveable tailboard for different space configurations with 17-inch fold-down rails, and our signature tool boxes, among others.
The Contractor Body also addresses the safety of operators with enhanced LED lighting, and an interchangeable tapered bulkhead available to improve visibility from the cab.
Many options are also available for this body, including a top-opening Spacemaker and shovel box for long storage. The new Contractor Body is backed by Reading Truck's 3-year industry-leading warranty and is available for a quote today.
"Contractors are demanding a better-equipped and more flexible work truck, and we believe that we have met that challenge," McNally said.