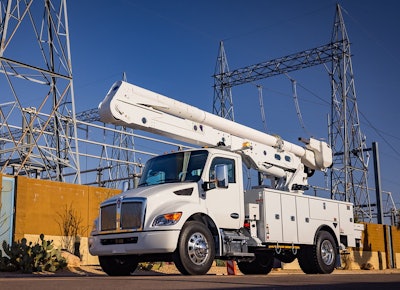 Kenworth
Kenworth announced the publication of a 152-page online body builder manual focused on their medium duty conventional lineup ranging from Class 5 to light Class 8 models.
The 2022 Kenworth Medium Duty Body Builder Manual features a clean, easy to read format with new click-to-go links to speed spec'ing choices.
The comprehensive manual offers 10 detailed sections featuring an Introduction, Safety and Compliance, Dimensions, Body Mounting, Frame Modifications, CAN Communications, Electrical, Power Take-Off (PTO), Aftertreatment, and Routing. It contains information and guidelines useful in the truck body planning and installation processes. Also offered are listings with name and page number for both the manual's 30 tables and 127 figures for quick, easy reference.
The Kenworth manual is intended to be especially useful when spec'ing a new medium duty truck, particularly when the body builder is involved in the vehicle definition and ordering process. Early in that process, body builders can often contribute valuable information that may help reduce the total body installation cost. This key information helps to ensure that the truck is spec'd correctly and set up appropriately for the body builder.
Kenworth's medium duty conventional line features the Kenworth T180 (Class 5), T280 (Class 6), T380 (Class 7) and T480 (light Class 8). In addition, the Kenworth T380V and T480V models are for vocational applications. The Kenworth models are offered with the 6.7-liter PACCAR PX-7, 8.9-liter PACCAR PX-9 engines. The near-zero emission Cummins 8.9-liter L9N and 6.7-liter B6.7N natural gas engines also are available.
Kenworth medium duty vehicles are designed to serve a variety of applications, including cargo and reefer van, beverage, tow and recovery, utility, mechanic service, fuel oil and propane, landscaping, fire, dump and mixer. The trucks may be spec'd with either a standard low roof or a raised roof option. The low roof is 63 inches tall, 4 inches shorter than the raised roof, making it ideal for height-restricted applications.
Kenworth trucks offer three hood types to help support versatility – short aero hood (107.5-inch BBC) that accommodates front axles from 8K to 20K lbs., medium aero hood (109.5-inch BBC) for higher horsepower and AWD applications, and Kenworth's vocational 'sloped' hood for the T380V and T480V.
The PACCAR TX-8 automatic 8-speed transmission is standard for the Kenworth medium duty trucks. It has a maximum torque rating of up 1,000 lb.-ft. of torque and 57,000-lb. GCWR.