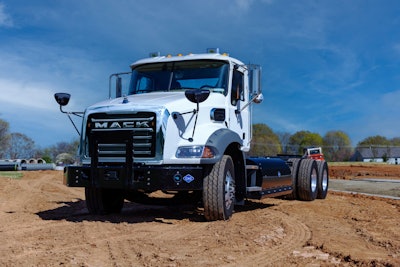 Mack
A compressed natural gas (CNG) Mack Granite truck is now available from Mack which will allow fleets to tap into negative carbon intensity values when fueled by renewable natural gas.
Developed for waste customers that want an alternative-fuel solution or that generate their own renewable natural gas from methane, the Mack Granite CNG model features a 320-horsepower Cummins L9N engine matched with an Allison 4500 fully automatic 6-speed transmission.
The CNG Mack Granite truck is only available as an axle-back model and features the new, more modern fascia with an updated chrome grille and self-heating LED headlamps that offer brighter illumination, improving forward visibility by up to 29% and peripheral visibility by up to 50%. The new grille and air intakes modernize the look of the Granite, and the choice of two grille treatments offers customers another way to customize their vehicles.
Self-heating LED headlights round out the updates and add to the suite of safety features already on previous Mack Granite models. The integrated heating elements automatically sense the ambient temperature and turn on to keep ice and snow from building up in colder environments and an anti-fog coating prevents condensation in warmer, humid environments to improve visibility.
"Mack Trucks is known for producing customized trucks that meet the exacting needs of our customers," said Jonathan Randall, president of Mack Trucks North America. "The CNG Granite model is a perfect example of our capabilities. Our waste customers asked for a CNG-powered Granite, and working with Cummins, we delivered a solution that offers the durability, reliability and comfort for which Mack Trucks is known."
When fueled by renewable natural gas, fleets can obtain a negative carbon intensity value according to the California Air Resources Board and the Environmental Protection Agency. According to CARB, RNG's lowest CI value is negative 600 which is superior to all transportation fuels including electric. RNG is derived from methane which CARB considers "25 times more effective than carbon dioxide at trapping heat."