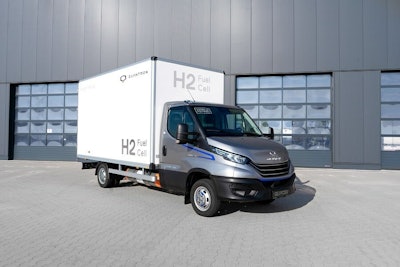 Hydrogen fuel cell developer Ballard Power Systems and German zero-emission truck maker Quantron AG are taking the next step in a partnership that begin in 2021 with the delivery of their first fuel cell electric vehicles, combining Quantron's vehicle engineering expertise with Ballard's fuel cell technology.
The core of the Canadian-German partnership is the integration of Ballard's high-performance FCmove fuel cell modules in Quantron vehicles. These include the 44-ton Quantron QHM FCEV heavy-duty truck and the Quantron QLI FCEV light truck. Both zero-emission vehicles feature significantly longer range and short refueling time compared to battery electric models.
A notable feature of Quantron's design is the complete integration of all fuel cell components into the frame structure of the trucks, which means that no compromises have to be made in terms of trailer length and payload, as well as allowing standard bodybuilder build-up structures as in their diesel counterparts.
"We're excited to see the partnership with Quantron expand into the light-duty vehicle segment and increase fuel cell deployment into the critical last-mile transport market," said Randy MacEwen, CEO, Ballard Power Systems. "Combining Quantron and Ballard's respective technical strengths and market expertise, our teams are committed to accelerate the adoption of hydrogen mobility in the freight sector by bringing high-performing fuel cell engines to market."