Trucking news and briefs for Wednesday, Aug. 2, 2023:
J.B. Hunt purchasing 13 Nikola zero-emission trucks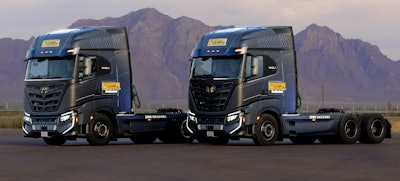 J.B. Hunt and Nikola Corporation this week announced an agreement in which the No. 3 carrier on CCJ's Top 250 will purchase 13 Nikola zero-emission Class 8 trucks.
The initial truck order will include 10 battery-electric and three hydrogen fuel cell electric vehicles, with delivery of the first vehicles expected this month. These trucks will be strategically located at facilities servicing J.B. Hunt's key routes, including in the greater Los Angeles and Phoenix areas. Nikola's hydrogen arm, HYLA, will supply the hydrogen and fueling infrastructure for the hydrogen fuel cell trucks.
"It's important for us to be at the forefront of new technologies and innovative solutions that have the potential to change the way we move freight," said Nick Hobbs, chief operating officer and president of contract services at J.B. Hunt. "These zero-emission trucks from Nikola advance our progress towards achieving our ambitious goal to reduce carbon emission intensity through viable solutions."
The move is part of J.B. Hunt's effort to reduce its environmental impact. In November 2022, the company set an ambitious goal to reduce carbon emission intensity 32% by 2034 (with a 2019 baseline). Incorporating alternative powered equipment into its fleet is one of three key focus areas in reaching the goal, the company said.
Shippers' conditions continue to improve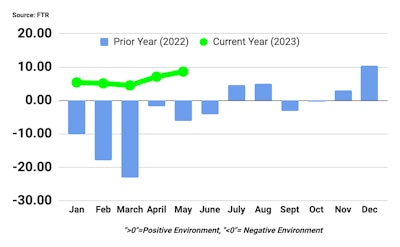 Market conditions for shippers improved in May from April due to lower fuel costs and freight rates, coupled with slightly weaker freight volume, according to FTR.
FTR's Shippers Conditions Index (SCI) rose in May to 8.6 from a 7.1 reading in April. "The Shippers Conditions Index rose in May as it became more obvious that there would be abundant capacity available in the system for longer during 2023," said Todd Tranausky, vice president of rail and intermodal at FTR. "While there are signs that capacity may be as loose as it is going to get, economic uncertainty could keep some shippers on the sidelines as they weigh their own inventory situation."
The index's increase in May followed another increase in April.
The Shippers Conditions Index tracks the changes representing four major conditions in the U.S. full-load freight market: freight demand, freight rates, fleet capacity, and fuel price. The individual metrics are combined into a single index that tracks the market conditions that influence the shippers' freight transport environment.
Knight-Swift names new Board member
Knight-Swift Transportation Holdings (CCJ Top 250, No. 5) announced that Amy Boerger was appointed to Knight-Swift's Board of Directors, effective Aug. 1. \
Boerger will serve until the 2024 annual meeting of stockholders and will be subject to annual election thereafter. In connection with her appointment, the Board determined that she will be an "independent" director under New York Stock Exchange listing standards.
She was appointed to the Audit Committee and the Nominating and Corporate Governance Committee of the Board.
Boerger, 60, served as Vice President and General Manager at Cummins Inc. until her retirement in March 2023. She worked for Cummins for 39 years. During this time, much of her work was focused on the North American highway market, pioneering the advancements of the trucking industry through building relationships with stakeholders and contributing to Cummins' Emissions Solutions business. Prior to serving as Cummins' Vice President and General Manager, shee worked as a product engineer and account executive.
Nikola secures more grant funding for hydrogen fueling stations
Nikola Corporation secured an additional $16.3 million grant to support seven open-network hydrogen refueling stations, the company announced Aug. 1.
Nikola has now received $58.2 million in awards granted to support seven hydrogen refueling stations, which includes a $41.9 million Trade Corridor Enhancement Program (TCEP) grant award, collectively representing six hydrogen refueling stations located along California freight corridors within the South Coast Air Quality Management District (AQMD), San Diego County Air Pollution Control District, and Mojave Desert AQMD.
The recent awards include:
EnergIIZE West Sacramento California Energy Commission: $3.3 million (c

onditionally awarded pending final approval)

Mobile Source Air Pollution Reduction Review Committee: $1.6 million
SacMetro AQMD: $7 million
South Coast AQMD: $4.4 million
The additional awards build on the strategic partnership with Voltera to develop up to 50 HYLA stations throughout North America over the next five years.
"The California grant awards and government funding demonstrate the strong support for the Nikola hydrogen infrastructure brand HYLA's mission of establishing a comprehensive zero-emission transportation solution to help fleets achieve climate goals and improve air quality in the most impacted communities," said Carey Mendes, president, Nikola Energy. "We continue to be grateful for the leadership demonstrated by California agencies in supporting the buildout of a zero-emissions ecosystem. Building an integrated, hydrogen ecosystem to support hydrogen fuel cell electric truck deployment and creating a scalable energy business, is a top priority for us."
Titan Freight adds battery-electric trucks to fleet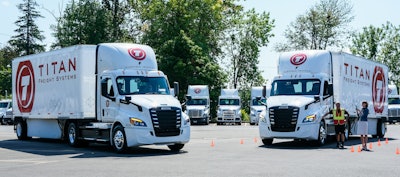 Portland, Oregon-based LTL carrier Titan Freight Systems has placed an order with Daimler Trucks North America to add three battery-electric Freightliner eCascidia Class 8 trucks to its fleet. An additional three Freightliner eM2 medium-duty electric box trucks are scheduled to join the fleet by the end of the year.
By leveraging the advanced technology of the Freightliner eCascadia and eM2, Titan is aiming to improve operational efficiency while reducing its carbon footprint, the company said. The eCascadias will provide deliveries to businesses throughout the Portland metro area, and the eM2s will be assigned to the densely populated downtown Portland routes with each new electric vehicle replacing their conventional diesel counterparts, helping to ensure a cleaner future for transportation in the state.
To power the electric fleet, six Detroit eFill commercial charging stations have been installed at Titan's depot, enabling efficient and reliable charging for the electric trucks.
"These heavy-duty electric trucks are a natural evolution in our journey to be a carbon neutral transportation company," said Keith Wilson, President and CEO of Titan Freight Systems. "We now have a new zero-emission, lower operating-cost tool to help us get closer to realizing our sustainability goals."