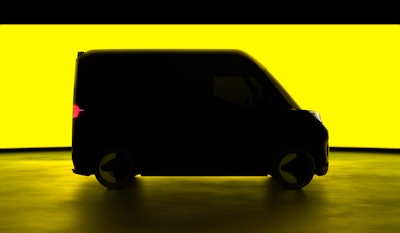 Renault Group and Volvo Group are joining forces on the development of an all-new generation of electrified vans the new combined company expects to introduce in 2026. Joining the group will be the CMA CGM Group, a global player in sea, land, air and logistics solutions, serves more than 420 ports around the world across 5 continents, with a fleet of around 623 vessels.
The vehicles will be built on a new fully electric LCV skateboard platform that will offer high modularity for different body types.
"The new company is the start-up minded, unmatched combination of the complementary assets of three champions: a leading truck maker, expert in tailored services, a champion of the global supply chains and a European EV pioneer & LCV leader," said Luca de Meo, CEO of Renault Group. "All the ingredients are there to come up with something truly unique."
Adopting the new Software Defined Vehicle architecture, the vehicle will onboard capabilities to monitor the delivery activity and user business performance, reducing the global cost of usage for the logistic players by 30%, the companies claim.
The new company will be fully independent. Renault Group will bring the know how to develop and manufacture at scale the electric platform that will onboard its first Software Defined Vehicle architecture, offering unprecedent experience to connect in open source the vehicle to the logistic business environment.
Volvo Group, a global leader in trucks with a strong customer base of professional logistic companies, a global service network and a wide experience in uptime and productivity services, will contribute to a full solution for decarbonized urban logistics.
"We are excited to take yet another step in our journey towards sustainable transport solutions through the intended establishment of a new company," said Martin Lundstedt, President, and CEO of Volvo Group. "Volvo Group is keen to continue to offer its customers complete transport solutions that help them decarbonize their value chains. We see a growing demand for clean, efficient, and safe urban transportation. Partnership and collaboration are key to achieve this."
As a global player on all segments of the supply chain, CMA CGM will assist the new company in building appropriate solutions that can fit all transport and supply chain player's needs, based on end-to-end efficient solutions. CMA CGM will also bring its know-how of a world logistic player, improving the solutions and B2B offers that will address the needs of all logistic players.
The joint venture is scheduled to start operations early 2024, depending on the completion of all regulatory approval processes. The future company is planned to operate under its own corporate identity and will be based in France. Volvo Group, through its business area Renault Trucks and Renault Group have been working together on light commercial vehicles for more than 35 years, materialized by the distribution in both networks of the Renault Master and Trafic commercial vehicles.
Volvo Group and Renault Group will remain competitors in all other areas.