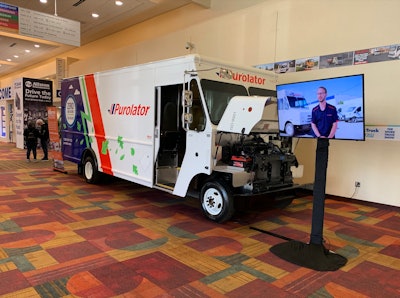 Hard Working Trucks
Motiv Power Systems announced that Canada-based Purolator has ordered 55 of its electric delivery vehicles following a successful pilot with five zero-emission vans.
The vans will be deployed this year in London, Ont., Vancouver, B.C. and Quebec City, Que. Purolator is the first Canadian courier company to nationally launch fully electric curbside delivery trucks.
"Expanding our partnership with Motiv Power Systems represents Purolator's growing EV deployment and leadership across Canada," said Chris Henry, Purolator's national fleet director. "After a successful experience with our first order, we're excited to partner together on this next phase that will help us execute on our commitment to reaching net-zero emissions by 2050."
Since converting five of its step-vans to Motiv Power Systems electric vehicles in 2021, Purolator has reduced roughly 52 tons of C02 over 45,000 miles and has enjoyed a 97% uptime. This first iteration of the partnership was so successful that Purolator won the Advanced Clean Transportation (ACT) Expo Fleet Award in the leading carrier category in 2021.
With this second order, Purolator will continue to make progress towards its 2030 goal to reduce its Scope 1 and Scope 2 GHG emissions by 42%.
As part of the agreement, Motiv will send additional employees to Canada to continue to provide customer service, maintenance and support for Purolator drivers. This also includes training Purolator drivers on Motiv's electric vehicles to foster synergy between their drivers, service networks, and the Motiv team.
"Our partnership with Purolator has not only driven quantifiable operational and maintenance cost savings, but has also provided their drivers with a healthier and more comfortable driving experience," said Tim Krauskopf, CEO of Motiv Power Systems. "The drivers are proud to be the first of their kind – providing service to all of the people and businesses on their routes in electric, quiet, non-polluting trucks. They now represent part of the solution to the climate crisis."
Motiv has worked with Purolator to form a no-compromises approach to transform their fleet. EV delivery vehicles drive the same routes with the same carrying capacity and durability as their ICE counterparts. Acceleration to highway speeds, even when loaded, is faster than ICE. The batteries, controls, and motor are hidden where the engine is normally found. Following a day's work, the vans return to the depot where they're charged overnight.