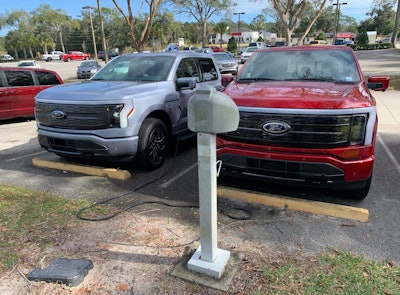 Tom Quimby
They're the kind of headlines no OEM wants to see but as Ford will attest it's better to err on the side of caution than risk even tougher news.
Media sites including Hardworkingtrucks.com lit up this week with news of Ford stopping production of its first full-size electric pickup, the F-150 Lightning.
A headline from the Detroit Free Press which keeps close tabs on automakers not far from its headquarters in the Motor City was especially stark: "Ford stops Lightning build as engineers struggle with battery, no restart date."
The Detroit Free Press later reported that a battery fire in an F-150 Lightning led to the shutdown. No one was injured in the blaze which damaged two other vehicles Tuesday in a lot at Ford's Rouge Electric Vehicle Center in Dearborn, Michigan.
We reached out to Ford to confirm and initially received the following statement this morning from Ford spokesperson Emma Bergg.
"We can confirm a Stop Build and In-Transit Stop Ship for F-150 Lightning," Bergg said. "As part of our pre-delivery quality inspections, a vehicle displayed a potential battery issue and we are holding vehicles while we investigate. We are not aware of any incidences of this issue in the field."
Then, about four hours later, Bergg followed up those statements with additional news that appeared to indicate that the problem with the lithium-ion phosphate battery had been identified, that a fix was on the way and that all vehicle production at the Rouge EV plant will be suspended until at least Feb. 24. Yikes!
"We are suspending production at the Rouge Electric Vehicle Center through at least the end of next week," Bergg said. "During a standard Lightning pre-delivery quality inspection, one vehicle displayed a battery issue. We believe we have identified the root cause of this issue.
"By the end of next week, we expect to conclude our investigation and apply what we learn to the truck's battery production process; this could take a few weeks," Bergg continued. "We will continue holding already-produced vehicles while we work through engineering and process updates."
[Related: Tow test in F-150 Lightning proves 'dismal']
There's no word yet on whether a recall will be issued for Ford EVs that may potentially be impacted by the battery issue.
The news created concern and conjecture on popular Ford Lightning forum, f150lightningforum.com.
"Yesterday (Tuesday 2/14) I was at my dealer picking up my '22 Expedition from service," forum user erock wrote. "Decided to check on the status of my '23 Lightning Lariat ER. Their system shows built and sitting on the ramp. My online account shows 'in production.' As I was walking out of the dealership, looked at phone, saw article about Lightning stop order. Went back in and showed sales guy and GM. We all just chuckled because at this point, I don't even care anymore. Not sure I will take delivery if and when it actually arrives at my dealership. Pretty much over the whole thing at this point."
[Related: Range recalculations in Ford 150 Lightning prove troubling]
Another forum user took a more light-hearted approach while also pointing to DC-fast charging as a possible culprit for Ford's battery woes.
"Maybe we were all beta testers and we will get free upgrades to Ford's Gen 2 EV Truck," wrote FordLightningMan. "So far so good for me though. Will be interesting to see if this issue is all sold Lightnings. I've not charged with a Level 3 charger yet. Could that be my saving grace?"
A response from forum user DrayDay55 didn't exactly inspire confidence. "You're fine (fingers crossed). I charge Level III almost four times a week but never past 80%."
According to Ford, the F-150 Lightning can be charged to 90% capacity while using DC fast-charging. Fans will engage to help keep the battery cool.
Ford announced last year that it will be transitioning to lithium iron phosphate batteries which though not as energy dense as conventional lithium ion phosphate pose a much lower risk for flammability.