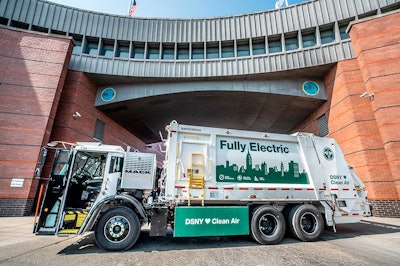 Mack
Ask about how well a Mack LR Electric handled trash collection at the New York City Department of Sanitation during a nearly year-long pilot and you'll get plenty of accolades.
"This one BEV refuse truck performed extremely well during refuse collection operation," DSNY's deputy director of motor equipment Spiro Kattan told Commercial Carrier Journal.
Jonathan Randall, president of Mack Trucks North America, pointed out that the LR Electric did so well that DSNY has signed up for more.
"The LR Electric unit run by DSNY, which completed testing in May, met expectations achieving a full day's work collecting trash," Randall told CCJ. "Based on that successful test, as previously announced, DSNY has ordered seven LR Electric trucks for deployment."
DSNY Commissioner Jessica Tisch also believes in the battery-powered truck's ability to haul trash. However, as she recently reminded the New York City Council, refuse trucks in the Big Apple are also required to serve as snowplows, and that's where the LR Electric struggled.
Because of the truck's current inability to effectively double as a snowplow, Tisch told council members last month that unless technology improves the city would not be able to meet its 2040 deadline for transitioning to a zero-emission fleet.
Battery technology improvements will have to be big to help make up for a large snowplow performance gap between the all-electric Mack and the diesel Mack LR.
"They basically conked out after four hours," Tisch said of the electric trucks at a city council meeting last month. "We need them to go 12 hours and so I do not see today – given the current state of the technology – a path forward to fully electrifying the rear loader portion of the fleet by 2040."
Randall said that the electric LR will be able to plow the streets longer once it's equipped with a more advanced battery pack.
"The original demonstrator Mack LR Electric vehicle was built specifically for refuse applications. New York City is unique in that it is one of the only collection fleets utilizing their refuse trucks to plow snow, and Mack was asked by DSNY to modify the test unit to determine whether it could also serve as a BEV snowplow vehicle," Randall said.
Original testing showed that the LR Electric was capable of running about three-and-a-half hours of snowplow duty on a single charge, Randa,l said, "and we anticipate that the vehicle will be able to plow an additional two hours on a single charge with our next-generation batteries."
Kattan said using the electric Mack for snow plowing provided important data for both the city and Mack. He also said that cold weather did not have a noticeable impact on range.
"This was a rare (if not the first time ever) opportunity to test and collect snow plowing data from a heavy-duty Class-8 (72,000 GVW) BEV refuse collection truck," he said. "This was a groundbreaking opportunity. We hope the data collected, and the lessons learned, will help pave the way for heavy-duty BEV to have the ability to plow snow in the very near future. In the near-term, DSNY will continue to test BEV refuse trucks."
Kattan said the seven Mack LR Electrics are expected to arrive in the second quarter of 2023 and that each zone of operation will receive one truck.
DSNY was the first fleet to enter a pilot with Mack to explore the capabilities of its Mack LR Electric. Testing lasted 11 months.
While Randall said the battery-powered truck performed successfully during refuse collection he acknowledged that "based on current technology and DSNY's required payload, there is no current electric option available to meet a 12-hour plow duty cycle on a single charge."
In addition to expressing concern over current range limitations in heavy-duty trucks, Tisch told city council members that developing charging infrastructure for additional EVs will prove challenging and costly.
"We currently have 13 [DC fast-chargers] and we are working to expand that network," she said. "However, this additional charging infrastructure requires additional space and often new electrical utility connections that can require substantial capital investments."
DSNY has a fleet of nearly 6,000 vehicles that include large collection trucks, front end loaders and small forklifts. Tisch said light-duty vehicles in their fleet have proven to be a good candidates for electrification.
"We have made substantial progress on the light duty side of our fleet," she said. "Our light duty fleet includes 289 plug-in vehicles, either plug in hybrid or fully electric, and we'll continue to work with [the New York City Department of Citywide Administrative Services] to expand EV use in all 59 districts. I have a lot of confidence in our light duty fleet and being able to meet the city's goals."