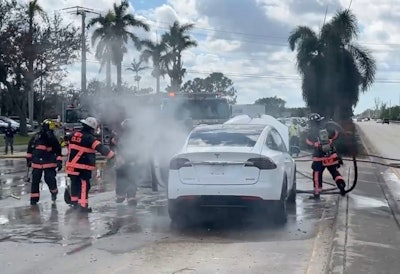 Jimmy Patronis
EVs left flooded in Florida following Hurricane Ian led to numerous powertrain battery fires that have fire officials there on edge.
While assessing storm damage Thursday in Southwest Florida, an area hit especially hard by the Category 4 storm, Florida Chief Financial Officer and State Fire Marshal Jimmy Patronis learned firsthand of a burning Tesla in the area that had been flooded by storm surge over week prior on Sept. 28.
Patronis tweeted a video (see below) of the car surrounded by Collier County firefighters as they attempt to extinguish the blaze. A woman is overheard in the 31-second clip stating that two fire engines with a total of 1,500 gallons of water had failed to put out the fire and that they had since connected a fire hose to a nearby hydrant to continue dousing the smoldering car with water.
Other EVs have caught fire following the deadly hurricane. North Collier Assistant Fire Chief James Hammond told Fox Business Friday morning that crews there had so far responded to 10 EV fires that resulted after the cars' battery packs were submerged in floodwaters. The fires continue to tax department resources, Hammond said, given the intensity of a battery pack fire.
"A typical car fire in the past would be one tank of water from our engine and would be less than an hour job. Pretty routine," Hammond said. "And these we're finding take hours to cool the batteries to keep them out of a runaway situation. It just ties up resources a lot longer, and in some cases where we don't have a water source, we have to secure the area and let them burn."
Additional fires could be coming. Patronis Tweeted that there's "a ton of EV's disabled from Ian. As those batteries corrode, fires start." Flooded EVs were exposed to saltwater, which according to the National Fire Protection Association can hasten corrosion in both low- and high-voltage components.
"There are many EVs in Southwest Florida, and unlike a normal gas engine, saltwater corrodes those lithium batteries causing fires," Patronis said in an official statement Thursday. "While EVs are nothing new, there hasn't been a lot of experience throughout the nation related to EVs catching fire as a result of salty, storm surge water. The State Fire Marshal's Office is currently coordinating with area fire teams to see whether additional assistance is needed from the State to respond to these potential fires."
Overall, fire risks are lower with EVs than conventional gas and diesel vehicles according to North American Council for Freight Efficiency director of emerging technologies Rick Mihelic.
"Nobody wants recalls and nobody wants fires. Everybody is very focused on safety," said Mihelic who's also a CCJ columnist. "Anything that actually makes it to production is probably not going to be a risk. I've written several times that, in general, it's less likely that an EV will catch fire than a gasoline or diesel truck."
Florida has the second highest number of EVs in the nation. The Department of Energy reported in December that California is top with 563,070 registered light-duty EVs with Florida coming in at a distant second with 95,640. Texas is third with 80,900 EVs. The DOE does not report tallies on medium- and heavy-duty EVs.