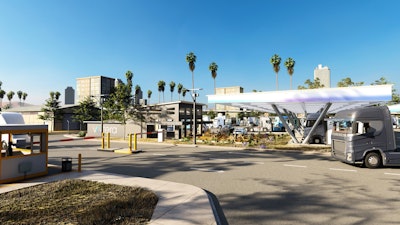 Voltera
There's a lot to take on when it comes to deploying EV chargers for commercial trucks and newcomer Voltera says they're ready to help fleets every step of the way.
Founded by EV industry veterans in Herndon, Virginia, Voltera can handle grant paperwork, site acquisition, permitting, utility interactions, charger installation, charger management and more to help ease EV acquisition because, as Voltera CEO Matt Horton told CCJ, charger rollouts are anything but easy.
"In our industry in the last 10 years there have been a lot of people trying to tell fleets that charging infrastructure or converting to EVs is easy but those of us who've been doing it for a long time know that it's not. It's challenging," said Horton, a former Rivian executive with nearly 10 years' experience in heavy-duty electrification.
"We'll take on all of the pain points for the customer and those challenges to make it as easy as possible for a customer to deploy their vehicles," Horton continued.
With more than a billion dollars in backing from European-based investment firm EQT Group, Voltera has already acquired land in the U.S. to set up and manage its own charging stations for fleets in strategic areas and also plans to construct fleet-based charging networks.
"As you know some fleets need [chargers] in depot while some fleets need more on the road," Horton said. "We really want to be a full-service partner that can provide turnkey infrastructure wherever they need it."
Voltera will roll out chargers for light, medium and heavy-duty EVs. To help ensure charger uptime, they're partnered with data center solutions provider EdgeConneX, which is also based in Herndon.
"As a pioneer in the digital infrastructure industry, EdgeConneX has solved many of the same challenges EV fleet operators and automakers face – acquiring, permitting, powering and operating sites in strategic locations, while ensuring customers' speed to market," said EdgeConneX CEO Randy Brouckman.
"It's a highly logical and practical application of our long-developed data center innovations to solve another very real and significant challenge," Brouckman continued. "Voltera will advance the transportation industry like EdgeConneX did digital infrastructure. It's really all a part of our commitment to sustainable innovation."
With an eye towards lowering ESG scores, Voltera will seek out and help advocate for renewable energy sources with some help from EQT.
"Through our experience in the datacenter and renewables sectors, we understand that the capabilities needed to deliver critical infrastructure for transport electrification at scale are around real estate and renewable power availability," said EQT Partner Jan Vesely. "We leveraged our existing know-how in this space to develop the EV charging infrastructure solution that now becomes Voltera. We see a tremendous opportunity to reduce greenhouse gas emissions by developing EV infrastructure, which is why we are excited to back Voltera's expansive ambitions."
In addition to heavy investment from EQT, the Biden administration's backing of a massive EV charger rollout is also proving beneficial.
"The support of the administration and of policy generally is absolutely critical to accelerating this process of adoption that's already underway," Horton said. "As we said before, it's not easy to do this. We understand that. We're building a team and a company to reduce some of those challenges and the economic assistance that some of these incentive programs provide really makes electrification a no-brainer for fleets and we think that is a big win for the industry."