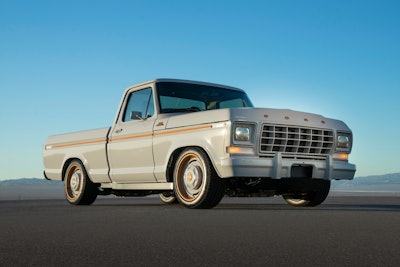 Ford
Maybe the best way to get folks fired up about new tech is through an old truck.
Ford CEO Jim Farley this week applauded YouTuber Marques Brownlee's video about a 1978 Ford F-100 Custom that was converted by Ford into an all-electric truck.
"I loved this video," Farley tweeted. "Build it?"
So far, 1,356 Twitter users have endorsed the idea.
[Related: Ford challenges F-150 Lightning in Alaska's snow and ice]
Ford first rolled out the electric F-100 Eluminator prototype at SEMA in November to help promote sales of its new EV crate motor. The truck's 480 horses and 634 lb.-ft. torque comes from an electric powertrain used in the 2022 Mustang Mach-E GT Performance Edition.
Brownlee's a fan and hopeful that the quirky but fascinating blend of two very different truck eras will make it to production.
"The final result here is an electric truck that not only looks like really nothing else on the road, but it actually drives basically the same as the Performance Edition Mach-E," Brownlee said in his video posted below.
Your thoughts?