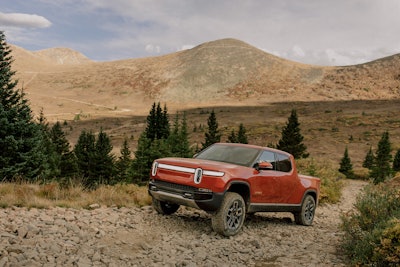 Rivian
Rivian announced plans for a dramatic increase in EV production with a new factory in Georgia and an expansion at their current plant in Illinois.
Construction on a new $5 billion factory is expected to begin this summer at a 2,000-acre site east of Atlanta in Morgan and Walton Counties that will employ up to 7,500 workers that are expected to produce up to 400,000 electric trucks and SUVs each year. Annual production capacity at its auto plant in Normal, Illinois is expected to max out at 200,000 vehicles.
"We're confident that, alongside Illinois, Georgia is the place for Rivian to continue to scale and thrive," said Rivian Chief People Officer Helen Russell.
[Related: Rivian announces new van, expands commercial fleet offerings beyond Amazon]
News of a new Rivian factory follows recent approval for a 623,000-square-foot expansion at the start-up's assembly plant in Normal, Ill. which will bring the total footprint there to roughly 4 million square feet. The expansion is expected to bring an additional 800 to 1,000 employees by the second quarter of 2022.
Rivian and Georgia officials are planning 2022 town hall events near the manufacturing site so area residents can learn more about the company and the site plan which calls for vehicle production to begin in 2024.
Rivian reports that its employees "enjoy industry-leading compensation, generous benefits, and equity in the company for every team member to drive a real sense of ownership."
Rivian has struggled to meet high demand for its R1T pickup and R1S SUV. Vehicle deliveries began first for the R1T pickup in September and by mid-December added up to only 386 pickups according to the Atlanta Journal Constitution. R1S production began this month. Production delays announced late last week at its plant in Normal caused the stock price to tumble roughly 16% by end of trading on Tuesday.
Amazon is by far Rivian's largest customer. The ecommerce giant, which has a roughly 20% stake in the company, placed an order in 2019 for 100,000 electric Rivian delivery vans. Rivian recently added a fleet section to its website where it will begin taking commercial orders for non-Amazon fleets next year.