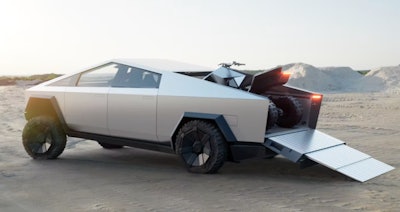 Tesla
Here's a twist on electric vehicle proliferation that most probably didn't see coming—Tesla CEO Elon Musk would like to see the plug pulled on subsidies favoring EV adoption.
Musk's comments on ending tax-payer funded incentives for EVs came up recently during The Wall Street Journal's CEO Council Summit. When asked about charging infrastructure support contained in the Biden Administration's $2 trillion social spending and climate bill, Musk was quick to trash the bill.
"Unnecessary," Musk said. "Do we need support for gas stations? We don't. So, there's no need for support for a charging network. I would delete it. Delete it. I'm literally saying get rid of all subsidies."
Biden's controversial bill provides up to a $12,500 tax credit for an EV produced by union workers. Tesla EVs which would not qualify for that $12,500 tax credit since they're produced by non-union employees. Those vehicles currently qualify for a $7,500 tax credit.
No matter, Musk would rather not subsidize the EV industry and thinks the Biden administration's $2 trillion bill does more harm than good.
"Seriously, we shouldn't pass it," Musk said. "If we don't cut government spending, something bad is going to happen. This is crazy. Our spending is so far in excess of revenue it's insane."
When asked about the biggest improvements that could be made to infrastructure, Musk suggested tackling congestion in crowded metros.
"I think we generally could have better airports and better highways especially in cities that are congested," he said. "We've got to do something to deal with extreme traffic which I think is some combination of double-decking freeways and building tunnels. But honestly, I would can this whole bill. Don't pass it. That's my recommendation."