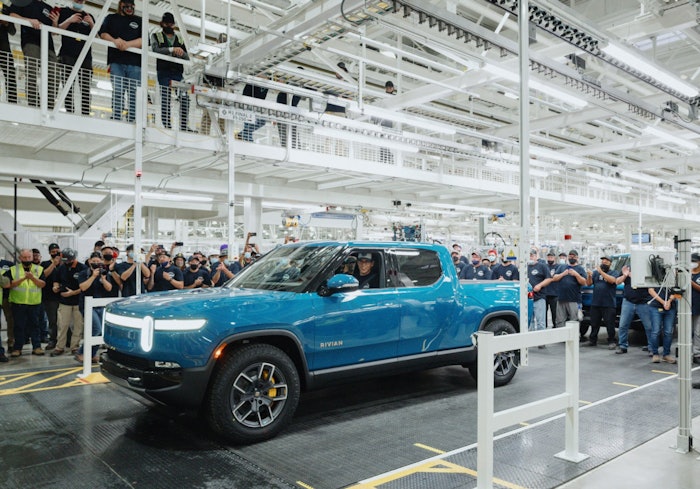 RJ Scaringe@RJScaringe Twitter
This week Rivian became the first manufacturer in the U.S. to bring a mass-produced, all-electric half-ton pickup to market.
Rivian CEO RJ Scaringe announced the roll-out of his company's R1T pickup on Twitter. Scaringe was photographed sitting inside the blue, all-wheel drive truck inside the company's factory in Normal, Ill.
"After months of building pre-production vehicles, this morning our first customer vehicle drove off our production line in Normal!" Scaringe wrote. "Our team's collective efforts have made this moment possible. Can't wait to get these into the hands of our customers!"
[Related: Rivian gets real about towing in the R1T]
Originally targeted for production last year, Rivian pushed through delays brought on by COVID-19 and supply chain challenges impacting the rest of the auto industry.
The R1T starts at $67,500 with an EPA estimated range of 314 miles. A quad-motor powertrain design delivers up to 11,000 pounds towing and a zero to 60mph time "in as quick as 3 seconds depending on your tire selection," Rivian states on their website.