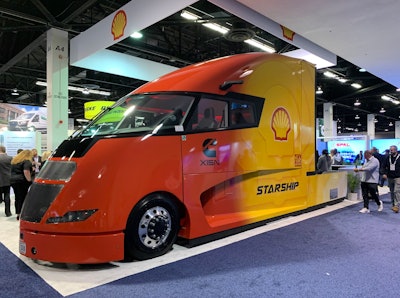 Tom Quimby
Cummins' new X15N natural gas engine will power Shell's Starship 3.0 when it hits the road this summer, the energy giant announced Tuesday at the Advanced Clean Transportation Expo in Anaheim, California.
Shell Renewable Natural Gas (RNG) will fuel the sleek, aerodynamic truck when it travels from San Diego, California, to Jacksonville, Florida, in August.
[Related: Renewable diesel production 'booming' as national availability remains in question]
"[RNG] has a much lower carbon intensity than the diesel," said Dr. Selda Gunsel, Shell's president of global solutions and vice president of fuels and lubricants technology. "In fact, if renewable natural gas is obtained from dairy cow waste, it actually has a negative carbon intensity. It means it takes more carbon out of the environment than it produces during combustion."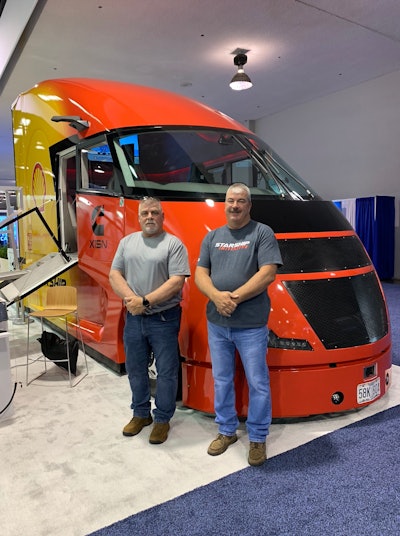 RNG has the lowest carbon intensity value of all transportation fuels. The California Air Resources Board currently lists RNG with a negative carbon intensity value of -600. Electric is listed at -225 thanks to RNG that's used to fuel natural gas power plants. Shell is working to expand availability of the fuel.
"We are dedicated to expanding our production supply and infrastructure capability in providing renewable natural gas to the industry in the U.S.," Gunsel said.
More details on Starship 3.0 are forthcoming but in the meantime Gunsel gave a general overview of the truck's capabilities.
"The truck will leverage the previous improvements around low friction, low rolling resistance tires from Bridgestone as well as lightweight materials and best in class cab and trailer aerodynamic design," she said.
The interior of the truck has been updated to make it comfortable for the driver on the road and inviting for passengers along for the ride.
"The truck is currently in the build stage and we are going to put it on the road this summer and we plan to do some regional runs along the west coast, but we will also replicate the coast to coast run we did in the previous versions so we can compare results." Gunsel continued.
Starship's two previous cross-country runs followed the same cross-country route. The North American Council for Freight Efficiency (NACFE) will again monitor and verify the results.
Starship 3.0 has some big shoes to fill given impressive results Starship 2.0 provided during its coast-to-coast run.
Gunsel said that truck provided a "70% improvement in fuel economy, three and a half times better freight ton efficiency than national average."
Shell views RNG and other low carbon fuels as a practical and affordable bridge to zero emissions.
"We know that we will need to have multiple solutions to decarbonize the transportation sector, ranging from energy efficiency improvements to low carbon fuels to hydrogen and better electric zero emission technologies," Gunsel said. "Application of new technologies, such as hydrogen fuel cells and battery electric, will take some time due to the need to develop the sufficient supply and infrastructure for these technologies. And at Shell we are working on all of these solutions. However, we know that we can make an immediate impact today by integrating all the innovations available to us commercially in the marketplace."