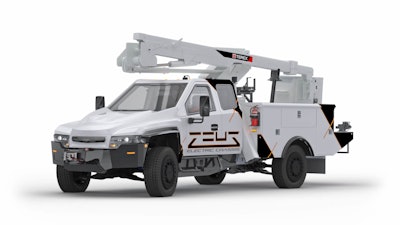 Zeus
Zeus Electric Chassis today announced that it will showcase an all-electric bucket truck concept featuring a custom-engineered Reading Truck Classic II service body and a Terex Hi-Ranger LT40 aerial device upfitted to the Class 5 Zeus Z-19 Electric Smart Chassis.
The 19,500 GVWR truck will be displayed to the industry for the first time next week at the Advanced Clean Transportation (ACT) Expo in Anaheim, California.
The medium-duty all-electric bucket truck with Zeus Z-19 platform is currently the only vocational Class 5 chassis awarded a CARB EO and related HVIP funding eligibility. The announcement comes on the heels of the highly anticipated CARB Advanced Clean Fuels (ACF) ruling announcement made earlier today, and will set the stage for new orders of medium-duty electric vehicles in California and beyond.
"Fleet transition to electrification is a complex and long-term process, but we can mitigate these impacts by demonstrating solutions that address additional power capacity," said Jim Steffes, vice president of business development and strategy for Zeus. "High-powered tools draw greater current, often in short bursts, causing additional thermal loads and decreased capacity. Power, payload and performance are equally important to fleets and other industry stakeholders, and we're working with Terex and Reading Truck to address all of these."
Terex is pleased with the concept truck.
"As a leader bringing the first EV distribution 55-ft. class bucket truck to the industry, we support Zeus' development of a super-duty application. When this truck is ready for the market, we expect to be right there with Zeus," said Joe Caywood, director of marketing and product manager for Terex Utilities. "The Hi-Ranger LT40 aerial device is powered by a Terex HyPower SmartPTO system by Viatec, an ePTO solution that powers the outriggers and all aerial boom functions at 28.8 kwh and is independent of the vehicle power source."
J.B. Poindexter & Co., Inc. business units The Reading Truck Group and EAVX, its innovation hub, provided the service body for the all-electric truck on display.
"Reading Truck has been a leading manufacturer and distributor designing work truck bodies for more than 65 years," said EAVX COO and GM Mark Hope. "Alongside JBPCO's newest innovation hub, EAVX, this partnership demonstrates our commitment toward next-generation EV solutions, while leveraging the decades of experience in the industry."
With the pace of commercial vehicle electrification quickly gaining speed, Zeus Electric Chassis is stepping up efforts to develop innovative electric vehicle solutions that meet the needs of fleet operators across various industries. With the support of partners like Terex and Reading Truck Body, the company is well-positioned to bring its GEN 3 and GEN 4 all-electric trucks to market, and to help accelerate the transition to sustainable transportation.
Alongside the bucket truck, a Class 5 Zeus Z-19 all-electric Marion Body Works box truck will also be on display in Zeus booth, #5911. A team from Pegasus Specialty Vehicles will also be on hand to discuss its collaboration with Zeus.
"The Zeus Z-19 Smart Chassis is a great step toward electrifying the vocational fleet industry," said Steffes. "It is exciting to see key industry players collaborating to achieve this goal, and hopefully this is just one of many sustainable solutions that we will see in the future."