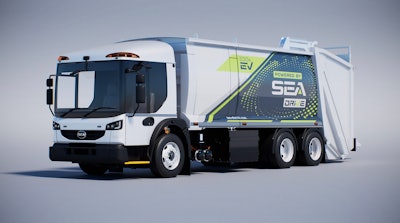 SEA Electric
SEA Electric announced today that they will be unveiling an electric truck powertrain with an optional hydrogen range extender next week at the Advanced Clean Transportation Expo in Anaheim, California.
The SEA-Drive 250 power system which is designed for Class 8 rigid or day-cab trucks will be available with a 45kW fuel cell range extender (RE).
SEA claims market-leading attributes for its power systems and that includes the SEA Drive 250 which will feature max power of 670 horsepower (500kW) and peak torque of 4,579 foot-pounds (6,200Nm). Power will be supplied from a 250kWh battery pack.
"The SEA-Drive 250 RE represents a major breakthrough for SEA Electric in our efforts to electrify the world's commercial transport fleet," said Tony Fairweather, SEA Electric Founder and CEO.
Fairweather envisions various applications for the fuel-cell equipped SEA-Drive 250. The all-electric version has already been at work powering refuse trucks.
"For SEA Electric, this new product combination offers us the opportunity to branch out into some fantastic new areas and applications, which can now benefit from our leadership in the industry, such as day-cab and drayage tractor applications," Fairweather said.
"The combination of battery electric with the optional fuel cell extender will optimize weight and cost, whilst delivering the full fleet duty-cycle requirements, with performance that has never been seen before in this segment," Fairweather continued.
Range extending capabilities opens the door to more refuse fleets.
"In regards to the refuse industry, the SEA-Drive 250 RE will allow us to provide a solution for 95 per cent of the market via any chassis combination," Fairweather said.