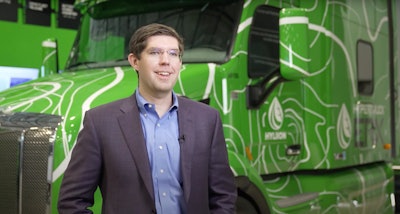 Hyliion
Tesla CEO Elon Musk has made it repeatedly clear through the years how much he despises fuel-cell powertrains.
However, as tough emissions regulations continue to crank up for heavy-duty trucks, Musk's narrow focus on all-electric is proving to be the exception rather than the rule.
Iconic engine manufacturer Cummins announced earlier this year a fuel agnostic approach to slashing emissions, focusing on maximizing the capabilities of internal combustion with various low-carbon fuels including hydrogen, propane and natural gas. All three of those fuels have lower or even negative carbon equivalents such as green hydrogen, biopropane and renewable natural gas.
[Related: Cummins, Hyliion partnering on truck electrification]
Cummins is also pursuing fuel-cell and all-electric powertrain development during what they say will be a 40-year transition to Destination Zero.
Cummins business partner Hyliion, which specializes in Class 8 hybrid powertrains, also sees a variety of powertrains playing important roles in decarbonization. Months before the partnership was announced between Cummins and Hyliion, the former of which is set take Hyliion's natural gas Hypertruck ERX powertrain to market, Hyliion CEO Thomas Healy told CCJ that when it comes to truck electrification, he envisions hybrid trucks going to work for fleets alongside all-electric and fuel-cell based on cost, capability and fueling infrastructure.
As companies face growing pressure to embrace ESG (environmental, social, governance) goals, Healy, a mechanical engineer schooled at Carnegie Mellon, recently turned to video to offer more of his insights truck electrification.
"This week we released the first in a series of educational videos on the future of commercial trucking," Healy said Monday. "We created these videos with customers, investors and analysts in mind and want to show the realities behind electric trucking through an educational series. These won't be just Hyliion focused, but instead about electrification as a whole."
The first video looks at why heavy-duty trucks are undergoing a shift to electrification, options for electrification and performance characteristics.
"We get questions on a daily basis about how these vehicles work and what are some of the hurdles fleets are facing and what are some of the benefits they're getting out of these trucks. That's why we're kicking off this series to share a little more color about how this industry is going to make this evolution," Healy says at the beginning of the 8-minute video.
Since posting last Thursday on Hyliion's YouTube channel, Healy's video has racked up nearly 1,900 views, 264 likes and 40 comments.