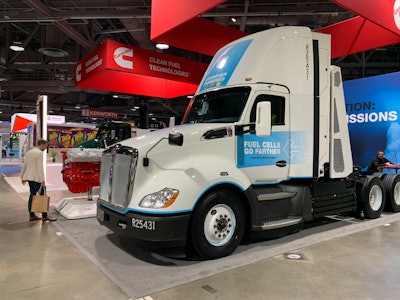 Commercial Carrier Journal
Fleets don't have to wait for a major fuel company to set up a hydrogen station for fuel cell and internal combustion trucks. They can build their own.
On-site hydrogen production is a growing option, particularly as more companies acquire fuel cell forklifts to lower their carbon footprint. During the grand opening of their truck factory in San Antonio earlier this year, Navistar told reporters that they would produce hydrogen on-site for their fuel cell forklifts.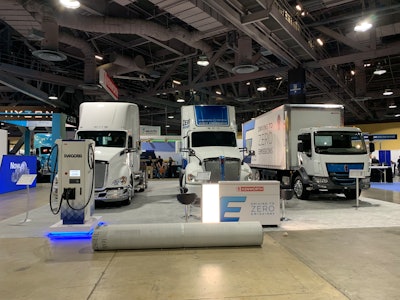 Extending that approach to truck fueling is also an option, particularly as fleets look for ways to more quickly step-up emissions reductions to keep up with sustainability goals that can impact their ESG (environmental, social, governance) rating and affect investor sentiment.
"That's the great thing because it gives people flexibility now," said Jim Nebergall, general manager of Cummins' hydrogen engine business. "It's hard to produce diesel on-site. This is a new option.
"I think we will see behind the fence fueling with onsite production," Nebergall continued. "People do that today with hydrogen-powered forklifts, so those customers are looking at this and are very interested."
[Related: Cummins, Air Products announce hydrogen partnership]
Air Products, the world's largest hydrogen supplier, offers on-site equipment for hydrogen production. Their mid-range PHG830 model, which produces hydrogen through steam methane reforming (the most popular production method), requires a 10-yard by 25-yard footprint and takes about a week to install.
An Air Products description online states that "the generators are highly-efficient, using less natural gas than other processes, and a modular design enables quick installation and start-up."
BayoTech, which counts equipment giant Caterpillar among its investor partners, markets its BayoGaas Hydrogen Hubs to "provide a low-cost, low-carbon fuel," their website states. "The hubs are quick to deploy, have a small footprint of only 0.25 acres, and utilize existing natural gas infrastructure."
BayoTech will "install and operate a hub to generate on-site hydrogen," an important consideration given the level of expertise needed to maintain such systems.
Been there, done that
California Fuel Cell Partnership Executive Director Bill Elrick noted that there's been growing interest in producing hydrogen on-site backed in part by "skyrocketing" investment.
"We've seen it done from smaller SMR (steam methane reforming) units to electrolyzers and even new novel approaches coming up," said Elrick, whose 25 years of experience in the alt fuel industry includes hydrogen production.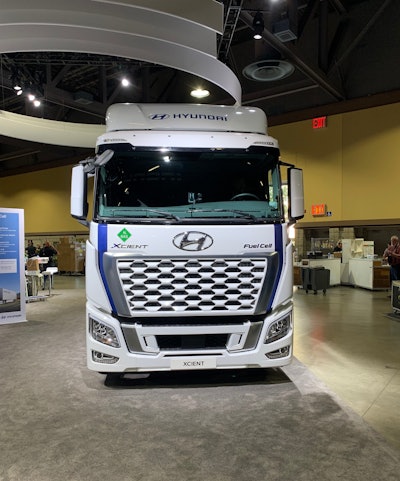 "You've got an awesome opportunity to produce energy and fuel on-site, so you control more of your operations, whether you're a big fleet operator or you're a retail gas station that wants to create your own power for selling your candy, soft drinks as well as the fuel," Elrick continued. "That's a great opportunity and I think we're going to see more and more interest. The last two years, the momentum in hydrogen, the investment in hydrogen, has been so incredible."
[Related: Fleets share impressions of zero-emission trucks, vans]
However, Elrick pointed out that producing hydrogen on-site requires careful planning around fuel needs, land availability and the complexities of production itself.
"My not-so certain response is that it's totally doable, but without some significant breakthroughs, the real challenge I see is the footprint required for an electrolyzer or even a small SMR is significant," Elrick said.
"If it's a forklift operation of moderate size, that's probably doable but if you start to then get a really big operation, especially if you move into medium and heavy duty, I think the fuel requirement is so significant, that the footprint of your production center will start to encroach on your operations in a way that'll be pretty significant," Elrick continued.
Taking on the role of fuel production is no easy task.
"How many people who have an operation of a fleet facility want to add energy producer on top of it as a different business venture?" Elrick said. "On the one hand, yes, it would give you the opportunity to control more of your own destiny. On the other, now you're going to become an expert at that as well. You need to be.
"We operated a station here for 15 years, and I can tell you, especially with it being the first in the country, by the time it was done and we closed it, it was a working historic antique, and I both loved it and hated it with the same breath," Elrick continued.
Power sources are also a factor. For instance, Navistar will be powering its hydrogen generator with green energy from Texas' power grid, which will enhance its overall ESG score.
Ultimately, Elrick remains optimistic about producing hydrogen on-site and pointed to huge investment in R&D that's expected to expand product offerings.
"I think the innovation that's going to come over the next five to 10 years is going to be tremendous," he said. "We saw that when the right market signals [emerged] for solar, wind and batteries. When you see that kind of momentum, innovation takes off."