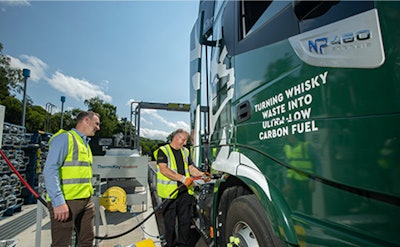 IVECO
While it's safe bet that you've heard of alcohol-fueled funny cars, you've probably never heard of delivery trucks that run on whiskey.
Yeah, neither have we, until now.
Glenfiddich—yes, that whiskey…the world's most-awarded single malt Scotch whiskey—announced recently that they'll be fueling IVECO trucks with renewable natural gas sourced from waste products generated through whiskey production at their distillery in Dufftown, Scotland.
[Related: Nat gas truck sales climb but infrastructure losing ground to electric]
"It has taken more than a decade for Glenfiddich to become the first distillery to process 100% of its waste residues on its own site, then to be the first to process those residues into biogas fuels to power its trucks, and finally to be the first to install a biogas truck fueling station supplied by our on-site renewable energy facility," said Kirsty Dagnan, Dufftown site leader for William Grant & Sons, parent company of Glenfiddich.
"We are proud to have achieved these renewable energy breakthroughs in our industry, and to be working with a pioneering partner such as IVECO as we scale up the de-carbonizing benefits of this closed-loop process across our entire transport fleet," Dagnan continued.
[Related: Renewable natural gas driving interest in nat gas truck sales]
Similar to renewable gas production on dairy farms here in the U.S., Glenfiddich loads waste matter into an anaerobic digester which facilitates the production of biogas that is captured and cleaned up for use in the trucks. Left-over solids from the digester can then be used to fertilize the barley fields creating a circular economy.
"We expect high profile innovators such as Glenfiddich joining the movement to help accelerate this important shift and we believe that a circular economy approach is key to pushing for negative greenhouse gases," said IVECO Heavy Business-line Director Gareth Lumsdaine. "If the process helps bring great scotch along the way, then that is even better!"