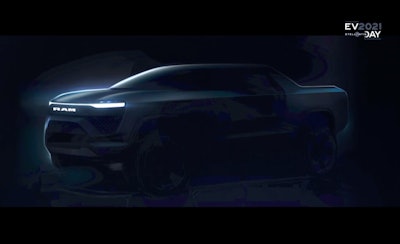 Ram
Ram recently announced that it will be rolling out electric trucks and vans as part of parent company Stellantis' plans to electrify all of its vehicle brands.
During a Stellantis investors webinar held late last week, Ram CEO Mike Koval Jr. said an all-electric Ram 1500 will be coming in 2024 with other battery-powered Ram vehicles to follow.
"As the only dedicated truck and van brand, Ram will offer a fully electrified solution in the majority of our segments by 2025 and a full portfolio of electric solutions for all of our segments no later than 2030," Koval said.
In a press release, Stellantis reported that its EVs will come with ranges of 300 to 500 miles and class-leading fast-charging capability of 20 miles per minute.
Battery plans include a high energy-density option and a nickel cobalt-free alternative by 2024.
A solid-state battery option is expected for 2026 which while promising dramatic improvements over lithium-ion may initially come with a higher price.
"Obviously solid-state batteries are a significant advancement over lithium ion with their faster charging time, increased energy density and much safer chemistry," said Tyson Jominy, vice president of data and analytics at J.D. Power. "With such a dramatic advancement in technology, solid-state may reset the battery cost curve, which may make li-on more cost competitive for most of this decade."
Ram currently offers a battery-powered eTorque powertrain on its 1500 pickup. The 48-volt mild hybrid system powers accessories, provides additional torque and enables smoother operation for the truck's fuel-saving, start-stop engine feature.