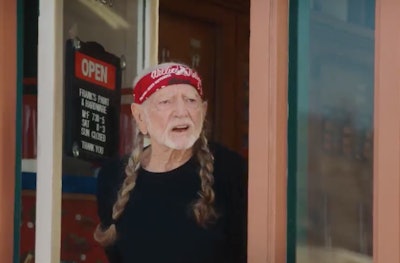 FedEx
FedEx posted a memorable ad on social media recently depicting country music legend Willie Nelson as a fan of their GM BrightSpot EV600, an all-electric step van.
Shot outside of Frank's Hardware in Santa Paula, Calif. about 40 miles northwest of Los Angeles, Nelson emerges from the store and says, "Wow! Impressive truck" just as a man exits a pickup that resembles an F-150 Raptor.
Thinking that the American icon is paying him a compliment, the man says, "Thanks." Willie clears up the misunderstanding by pointing at the quiet, large FedEx EV slowly passing by and says, "Yeah, I meant that one."
[Related: Ford opens fact-finding period for electric Transit, cuts MSRP]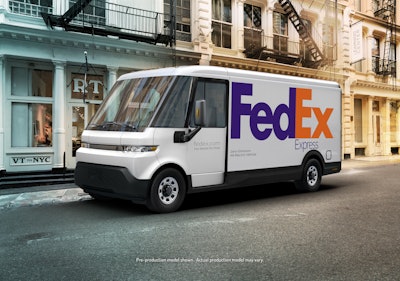 So Willie throws some shade on internal combustion? And a Raptor, no less? Okay, but I'm wondering how many EVs have hauled his concert gear around all these years. I'll hazard a guess and say none. But maybe one day...
In the meantime, parcel delivery looks like an ideal fit for all-electric. FedEx certainly thinks so. The company announced in March its intentions to reach carbon neutrality by 2040. To help get there, the entire FedEx fleet will gradually transition to zero-emission vehicles. By 2025, half of the FedEx Express global pickup and delivery (PUD) purchases will be electric. By 2030, all PUD vehicle purchases will be electric.
By 2040, the entire FedEx parcel pickup and delivery (PUD) fleet will be zero–emission electric vehicles. This will be accomplished through phased programs to replace existing vehicles. For example, by 2025, 50% of FedEx Express global PUD vehicle purchases will be electric, rising to 100% of all purchases by 2030.
GM reported that interest in the BrightSpot EV600 has been strong and that the first vans should be rolling out to customers by the end of this year. FedEx signed up for 500 of the vans in January. The EV600 has an estimated range of 250 miles, 2,200 lbs. of payload capacity, over 600 cubic feet of storage area and GVWR below 10,000 lbs.
Safety features of the EV600 include automatic emergency braking, forward collision alert, front pedestrian braking, rear pedestrian alert (optional), HD rear vision camera, front and rear park assist and blind zone steering assist (optional).