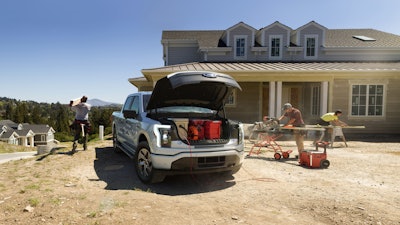 Ford
Ford recently reported over 100,000 pre-orders for its all-electric F-150 Lightning (shown above) which experts say is part of a growing wave of commercial and consumer EVs that may lead to a technician shortage if fleets don't plan ahead fast enough to get ahead of the curve.
Some experts also believe that these high-tech, zero-emission workhorses that lean more heavily on firmware updates and laptop interventions than wrenches, can attract more talent, particularly women and others who have traditionally steered clear of internal combustion.
From a front row seat in the epicenter of the commercial EV movement in Southern California, Professor John Frala, longtime alt fuels training coordinator at Rio Hondo College in Whittier, is watching the demand for EV technicians take off as more EVs across all vehicle classes roll out to address emissions while mandated deadlines draw near.
"This stuff's expanding like crazy right now," said Frala, a noted expert and lecturer in alt fuel maintenance and repair who has landed contracts with Volvo, Tesla and Rivian to train their EV mechanics. He's also been talking with Lucid, which expects to roll out its battery-powered Lucid Air sedan later this year.
"The way the technology's rolling right now, everybody's afraid they're going to get left behind," Frala said.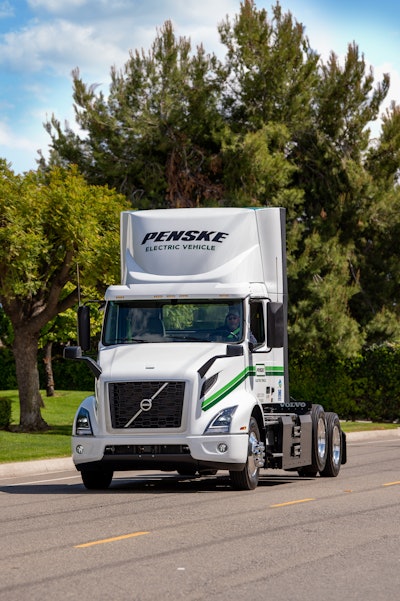 The first emissions deadline in California arrives in only two-and-a-half years, Frala pointed out. By 2024, at least 3% of Class 7 and 8 tractors bought in the Golden State will have to be zero emission vehicles (ZEVs). Certain percentages of other commercial vehicles sold there, all the way down to Class 2, will also have to be emissions-free by 2024. By 2045, all new vehicles sold there will have to be ZEVs.
[Related: Bill Gates slams electric trucks]
Fourteen other states plus Washington, D.C., have followed California's lead and are requiring that 30% of new medium and heavy-duty trucks be emissions free by 2030.
Though hydrogen fuel cells are counted among ZEVs, Frala said that all-electric has the advantage of a much larger and faster-growing manufacturing base and supporting infrastructure, namely chargers.
As a result, more technicians are needed for both EVs and charging equipment which has caught the attention of the National Institute for Automotive Service Excellence (ASE) in Leesburg, Virginia.
"EV training is all the rage," said Trish Serratore, ASE's senior vice-president of communications. "With the OEs committing to add EVs to their fleets, there is more and more interest in training to support them."
Ford, which has been making headlines for its growing EV lineup – including, most recently, its fleet-focused F-150 Lightning Pro – also sees a growing demand for EV techs coming at time when the auto industry has been up against a shortage of service personnel.
"We do anticipate an increased demand for EV technicians," said Elizabeth Tarquinto, manager of technical support operations at Ford Customer Service Division. "Given the fact that there is currently a technician shortage, there will definitely be a need for technicians in this space."
National non-profit CALSTART, which works alongside key stakeholders to help develop clean transportation technologies, embraces the growth of EVs and advises fleets to take action now to avoid getting left behind.
"There is concern about a shortage of EV techs to keep up with EV sales growth," said Bill Van Amburg, executive vice president at CALSTART.
"Fleets and service centers should be thinking strategically about their EV transition, which would include the servicing needs for the vehicles and the associated fueling infrastructure," Amburg continued. "A key to coming out on top of major industry transformations like this one is to begin planning early and adjusting your plans often."
Expecting a bigger pool of techs
While a growing number of buyers appreciate zero-emission vehicles (ZEVs) for their tail-pipe free technology, others are more driven to learn how these high-tech vehicles work so that they can do their part to keep these icons of clean energy up and running.
Hero appeal? Maybe. At a pivotal time when government officials, business leaders and consumers have converged to push for ZEVs to reduce health risks and save the planet from climate change, EV and charger techs could be likened to red-caped, laptop-clicking warriors.
[Related: Benore Logistics brings electric trucks to the southeast]
But there's more to it than that. Mike Roeth, executive director at the North American Council for Freight Efficiency, said he's noticed the "cool and technically advanced" factor of EVs enticing interest in maintenance and more.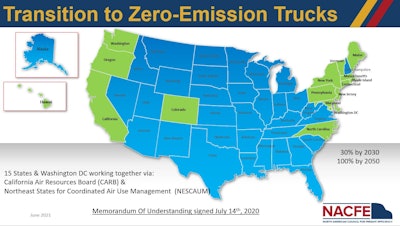 "We are in the middle of our site visits for Run on Less – Electric and already we are hearing how driving, maintaining, selling, operating electric vehicles, etc., etc., is exciting for all players and is helping businesses attract talent across many disciplines," Roeth said.
"This is because it's cool and technically advanced," Roeth continued. "They see electric cars and are really excited about [electric] trucks. I expected this, but not to the higher level we are experiencing. This is quite exciting and I personally see a broader pool of employees all over. Very exciting."
Like Roeth, Jason Gildenmeister, vice president of fixed operations for TEC Equipment in Portland, Oregon, a Volvo Trucks North America dealership group, also sees the high-tech appeal of electric trucks piquing greater interest among would-be techs.
"With advancements in technology, I can envision a scenario where trucks get even better at self-diagnosis, and since we will see more swapping of components versus rebuilding of engines, I think EVs actually reduce the barriers to entry for a technician, and potentially expand the available technician talent pool," Gildenmeister explained. "This would potentially help resolve some of the challenges our industry currently faces due to having a shortage of experienced technicians, as well as the younger generation being more attracted to other professions. Experienced technicians who have traditionally worked on a combustion engine will need to learn the EV side of the house and be able to cross the aisle when needed."
Chris Hough, vice president of maintenance services at Penske Truck Leasing, also sees the high-tech appeal of EVs as being a potential magnet for more talent.
"We feel that technically savvy individuals may be drawn to working on electric trucks," Hough said. "This type of work may appeal to a different group of individuals, some with an electrical background. It can open up another avenue to draw folks into the industry. With both EVs and diesel trucks, there are so many automated and electronic components that can attract a new generation of truck technicians."
Sparking a women's movement
Frala said the proliferation of EVs and the resulting demand for more EV techs is attracting more women to the school.
"The cool part about this is I'm getting more female involvement because it's not a greasy, grimy job where they're lifting heavy stuff," Frala said. "Now it's all computer based. We can flash firmware while the trucks are parked sleeping."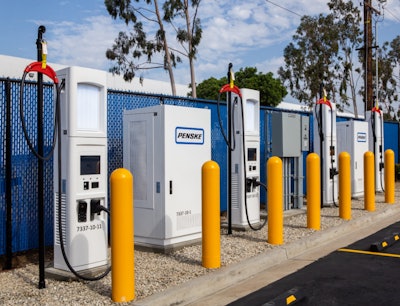 Over the past two years, Frala said female enrollment in Rio Hondo's tech training courses has gone from 4% to 9% of overall students. The uptick in interest helped convince Frala to pursue an all-female EV tech training academy, which he hopes to get started next year. He has the backing of the National Science Foundation.
"I've been an educator going on 28 years and I can tell you that when there's a female in a class, the whole class structure changes," Frala said. "Girls think about it, then make a decision to do a repair. The guys hack into it and then when they break something they say, 'Maybe we've got to go do some research.'"
[Related: Mandatory zero-emission truck and van law borrowing trouble]
When asked if EVs were attracting more female techs than internal combustion, Roeth didn't hesitate.
"Absolutely. Met one just this week who is thrilled to be engaged with electric trucks," he said.
California-based Motiv Power Systems, which specializes in electrifying work trucks, step vans, shuttles and busses, gave a similar response when asked if more women were expressing interest in EV maintenance and repair.
"Absolutely. Women are already interested and working in the EV space," said Joanna Hamblin, Motiv's senior marketing manager. "It's up to companies to create inclusive policies that go beyond talking points and concrete actions such as on-the-job training and support to flexible working hours. Automotive, like so many industry sectors, not only need more women across all levels of the organization, but also more BIPOC (black, Indigenous and people of color)."
Though Tarquinto's not so sure EVs will attract additional female techs, she does see these high-tech workhorses attracting a new kind of gear head.
"I think EV tech work may have a greater appeal to a non-traditional technician," Tarquinto said. "With the technology involved, I see this opening up the door for more tech focused people – versus those who are mechanically inclined. Understanding computers and systems will be critical. Not sure I would expect a difference in gender, other than it may appeal to high-tech females as well as high-tech males."