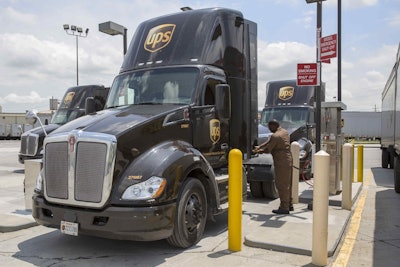 UPS
At a time when pressure is building for fleets to reduce emissions and lessen their carbon footprint, natural gas trucks are getting more attention thanks largely to renewable natural gas (RNG).
RNG comes from methane that's been processed for vehicle use, and according to the California Air Resources Board, it has the lowest carbon intensity score among all transportation fuels, including electric.
That and the cheaper price tag over electric is attracting more fleets eager for a greener profile as the Biden administration aims hard at emissions and watchdog groups stand at the ready with carbon assessments that can shake investor confidence and chip away at valuation, particularly at larger fleets.
"I think consumers are requiring it and I think investors are requiring it," Dan Gage, president of Natural Gas Vehicles of America, said of carbon scoring. "People are more aware of their environmental footprint and companies have to be more aware of it because their brand depends on being seen as part of the solution and not part of the problem. So we're seeing a lot of fleets that are making proactive investments in that."
Amazon has battled tough headlines the last few years after a carbon watchdog group, the Carbon Disclosure Project, gave it failing grades on environmental stewardship. Investment groups have also green-shamed the massive e-commerce giant, which according to Forbes, enjoyed explosive growth during the pandemic. Building up their fleet to accommodate huge growth has meant embracing a more green approach.
"We are seeing a great deal of interest from very large fleets like Amazon," Gage said. "According to media reports, it is deploying thousands of new Class 8 CNG trucks on American highways in 2021, and its intent is to run as many miles as possible using RNG."
[Related: CARB heedlessly running internal combustion off the road]
Andrew Wrobel, senior powertrain analyst at Rhein Associates, noted that demand for natural gas-powered trucks "has shown modest growth, with further slow growth anticipated."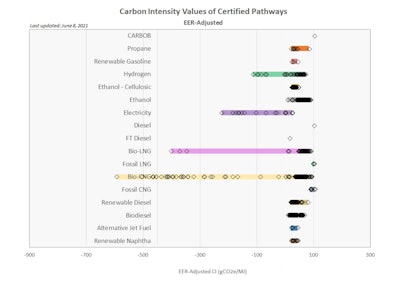 With the same molecular structure as compressed natural gas (CNG), RNG can fill in as a substitute and instantly improve a fleet's carbon score.
The idea is "expanding exponentially," according to a Cummins white paper, with RNG usage now surpassing CNG and LNG combined. The Coalition for Renewable Natural gas reports a 267% increase in RNG from 2016 to 2020.
Last year, just before the COVID pandemic hit the U.S., UPS (CCJ Top 250, No. 1), became the largest RNG fleet in the world when it committed to buying 250 million gallon equivalents. The shipping giant pointed out that RNG is "up to 90% cleaner than conventional diesel" and announced its intent to purchase 6,000 natural gas trucks.
Waste Management has also been stepping up its RNG use.
"Our fleet on the West Coast — the entire fleet in California, Oregon and Washington – are all being run on RNG," Waste Management Chief Operating Officer John Morris said during a recent alt fuel webinar hosted by Advanced Clean Transportation.
Following its $4.6 billion acquisition of Advanced Disposal last October, Morris said natural gas penetration among their refuse haulers went to about 70%.
"We're going to continue to drive that number up," he said. "We think probably mid-80s is doable right now."
Waste Management sources RNG from methane at their landfills that would otherwise be flared or sold to power plants to generate electricity.
"It's the ideal way for us to really close the loop with what we're doing on our fleet," Morris said.
Interest in Cummins Westport natural gas engines continues to grow according to Hugh Donnell, North American truck market and truck OEM business leader at Cummins Westport. A 15-liter nat gas engine that the company launched in China in September has fleets in the U.S. hoping that it will be introduced here soon.
"A major retailer told me if that engine was available here today, they would pull all of their trucks out of California tomorrow – the diesel trucks – and replace them with natural gas," Donnell said.
Threat to electric?
Zero-emission electric trucks continue to gain ground particularly in California, where the state provides generous incentives to help fleets transition to zero-emission vehicles as a mandate requiring their market entry approaches in 2035.
However, Donnell said the state is not prepared to take on the amount of electric trucks needed to meet aggressive air quality goals, including those set by the Paris Climate Accord, which the Biden administration and California have embraced following the Trump administration's rejection of same.
"The state of their electric grid out there is not suitable to support the goods movement with electricity at this point," Donnell said, "and I don't know how long that will take. The reality is you still have this need. We still need to clean up the atmosphere."
[Related: Hyliion's new hybrid Class 8 powertrain uses natural gas to power generator]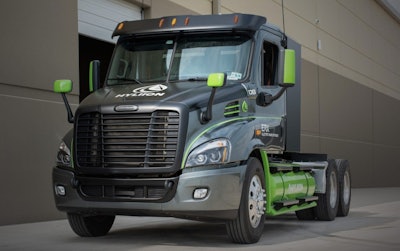 Donnell said in widely supporting all-electric vehicle adoption, California selected a technology "that cannot be delivered today. And you still have this issue about air quality. So what do you do? And I think that's what is occurring right now. They're getting the pressure of the Paris Accord, which actually set a date."
When it comes to range requirements, larger, battery-powered trucks, like Class 7 and 8 tractors, cannot always compete with internal combustion. Donnell said this could lead to fleets requiring more all-electric trucks to make up for the loss of range capacity realized with internal combustion. NFI Industries told CCJ late last year that because of charging requirements for their Freightliner eCascadias, they can only make two round trips to the ports in Southern California instead of three with diesel.
More support has grown for biofuels like RNG to help meet clean air objectives. U.S. Secretary of Energy Jennifer Granholm recently called biofuel "a powerful tool in the clean energy toolkit that has immense potential to power our ships and airlines with zero carbon emissions."
The endorsement is significant. Before the election and shortly after, the Biden administration exclusively endorsed all-electric vehicle and charger rollouts across the country and in February had made no mention of biofuels in an executive order calling for the electrification of the federal fleet.
Gage, who keeps his finger on the growing pulse of biofuels in Washington, D.C., said political winds are changing. This follows U.S. Postmaster Louis DeJoy's warning to Congress in March that electrifying 90% of the USPS fleet would incur multi-billion dollar expenses that were not sustainable.
"When we hear the energy secretary talking about biofuels and these other approaches, I think they realize that there has to be a mix when it comes to commercial fleets," Gage said.
Donnell thinks biofuels like RNG have a big role to play with truck fleets, particularly in California where its emissions goals are the most challenging in the nation.
"You have to do things and they've signed up for that," Donnell said. "So how are you going to meet those objectives? You can't do it with EV. You're not going to do that anytime soon. There's physically no way to do that, but they still have this need to get it done."
'We are not concerned'
Southern California Edison, which has been active in promoting and assisting fleets in commercial EV adoption, rejects the notion of grid constraints hindering commercial EV adoption.
"We are not concerned," said Chanel Parson, SCE's principal manager of transportation electrification operations. "We are welcoming this and what we found is there may be cases where a fleet wants to have a really large project. But we find in most cases, if the power isn't there to serve that project, oftentimes we can phase that project since oftentimes the project wouldn't be done overnight anyways.
"Usually companies don't electrify their entire fleets overnight," Parson continued. "So as the utility, we want to understand what the longer-term plan is so we can start building out a capacity solution to meet that longer-term plan."
Donnell said the state has continued to battle tough EV adoption challenges for decades and that a costly infrastructure build-out is only part of the problem.
"They're still waiting for two things: The miracle around batteries, and they're still waiting for someone who can afford the grid to put it in there because if you go to EV in California, it would cost trillions of dollars in redoing the entire grid."
RNG supply is not a concern for either Gage or Donnell. The Cummins RNG white paper states that "while the number of RNG sites has doubled in recent years, there still exists a tremendous opportunity to expand further, as only 15% of all U.S. landfills (300 out of 2,000 potential sites) currently are tapping into this natural energy resource."
Dairies have also gotten into the methane business particularly in California where it's mandated.
"California dairies are required to capture those methane gases through digesters," Gage said. "So you have a state like California, that's been really proactive in creating this RNG production industry. And then because it has an LCFS [low carbon fuel standard] credit program, it makes it very lucrative and it's keeping that gas in the state."
Other states have taken notice, Gates said, and are taking legislative steps to help develop regular sources of methane in plant and animal waste.