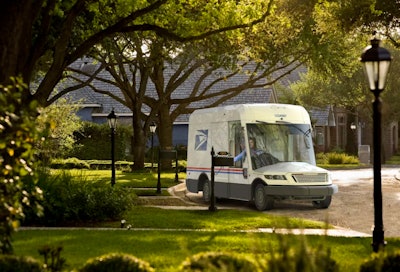 USPS
At a time when U.S. President Joe Biden has been pushing the federal fleet to go all-electric, it certainly didn't go unnoticed that the U.S. Postal Service will be spec'ing internal combustion engines alongside battery-electric versions through its recently announced delivery vehicle contract with Oshkosh Defense.
Environmentalists, in particular, are fuming that U.S. Postmaster Louis DeJoy told Congress that because of the agency's ongoing financial woes only 10% of the USPS fleet will be electrified—a goal that falls far short of Biden's executive order to electrify the entire federal fleet.
"Electrifying just 10% of the USPS fleet, as Postmaster DeJoy has suggested, is really shortsighted and not acceptable," Sierra Club Clean Transportation for All director Gina Coplon-Newfield told National Public Radio this week.
[Related: USPS awards $485M new vehicle contract to Oshkosh Defense]
DeJoy told Congress that electrifying 90% of the USPS fleet, the largest in the U.S. at more than 230,000 vehicles, would cost $3 to $4 billion above the current multi-billion dollar 10-year effort to replace the fleet's delivery vehicles. He cautioned Congress that current USPS expenses were not sustainable.
"Since 2007, we have recorded significant net losses each year," DeJoy told the House Committee on Oversight and Reform. "Despite our mandate to be financially self-sufficient, in fiscal year 2020, the Postal Service recorded a net loss of $9.2 billion, adding to a decade of losses totaling $66.8 billion.
"We have been able to maintain operations only by defaulting on statutory obligations to fund pension and retiree health benefits, and we have large unfunded liabilities," DeJoy continued.
In an effort to charge up the Postal Service's spending power for EVs, Democrats in the House of Representatives introduced legislation on Monday asking for $6 billion that could be used to purchase tens of thousands USPS electric delivery vehicles.
[Related: Texas-sized power outages concerning for growing EV market]
The four-page bill, submitted by Rep. Jared Huffman (D-Calif.) requires that "at least 75% percent of the total number of vehicles purchased using such funds shall be electric or zero emission vehicles."
The reference to zero emission vehicles may be a nod to fuel cell powertrains which many clean air advocates and policy makers, particularly those in California, say have been unwisely relegated to second-class status behind EVs. In November, state representatives in California wrote a letter to Gov. Gavin Newsom asking that he more strongly support fuel cells alongside EVs out of concern that all-electric "technology will not get us there alone and fuel cell electric vehicles will need to be a significant part of our zero-emission portfolio, particularly in the heavy-duty and commercial sectors."