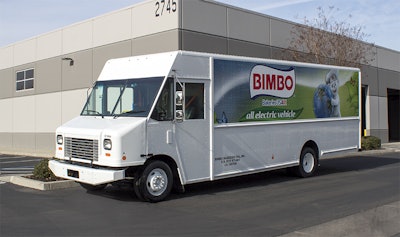 Motiv Power Systems and Workhorse both announced new orders for their electric step vans this week.
Motiv reported that it will be providing over 100 of its electric delivery trucks to Bimbo Bakeries, the largest bakery in the United States. The order follows a successful 12-month pilot of five Motiv-powered electric trucks at Bimbo that Motiv says "performed flawlessly on real-world delivery routes."
Bimbo and Motiv are now strengthening their partnership, with 23 additional trucks currently in production and another 100 planned for 2021 deployments, all powered by Motiv's EPIC F-59 chassis. Bimbo will deploy these additional vehicles across California, New York, and Pennsylvania.
"We are pleased with the 100 percent uptime of our pilot vehicles and look forward to growing this partnership into 2021 with additional deployments," said Eric McCann, Technical Fleet Manager for Bimbo Bakeries USA. "Sustainability is built into our company's purpose and incorporating these vehicles into our fleet is an important step toward reducing our dependence on fossil fuels. With Motiv's help, we're confident that we will meet our goals."
Motiv's electric EPIC F-59, which has been in service at various fleets for the past five years, features a 105-mile range.
"Our continued work with Bimbo Bakeries USA to help achieve their sustainability goals runs concurrent with our mission to free fleets from fossil fuels," said Matt O'Leary, Motiv Chairman and CEO. "We are grateful for the trust Bimbo has placed in our products, thanks to our industry-leading technology development by our engineering team, the robust build and quality delivered by our manufacturing team, and the excellent service provided by our customer support team."
Workhorse partners with nationwide dealership
Also this week, Workhorse announced that it received an order for 500 of their electric C-1000 delivery vans from Iowa-based Pritchard Companies.
The vans, which will be offered for sale at Pritchard's commercial vehicle dealerships across the United States, will be available for purchase with financing options through Hitachi Capital America.
"With this significant order and agreement from Pritchard, we can build upon our nationwide distribution network and expand the number of potential fleet customers that will be able to operate and own a Workhorse delivery truck," said Workhorse CEO Duane Hughes. "Along with HCA's financing programs, Pritchard will be able to offer fleet customers a variety of flexible options to start using our last-mile delivery vehicles, lowering the barrier to entry for adoption and enabling total cost of ownership advantages from the outset."
The Workhorse C-1000 all-electric truck features a lightweight design that enables up to a 100-mile range. The vehicle also features a low floor that allows easy access for the driver while facilitating loading and unloading.
"We see this initial 500 vehicle purchase as being the first of many future orders and look forward to growing with Workhorse in 2021 and beyond," said Ryan Pritchard, COO of Pritchard Companies EV Division.