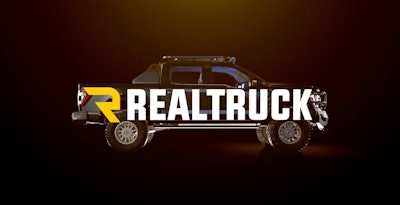 RealTruck
Those on the hunt for the next great accessory for their pickup or Jeep—and who isn't?—should take note that the popular Truck Hero brand has undergone a name change to RealTruck.
The website, realtruck.com, presents a noticeable departure from the prior site and comes across as more engaging with truck-related video and a can't miss "Big 25th Anniversary Sale" banner across the top. Be warned…once you click, it's hard to stop.
Of course, shoppers can also visit one of RealTruck's brick and mortar locations across North America. Yes, they're way more than just a website.
"When we started the company nearly 20 years ago, we were a small manufacturer of truck bed covers with approximately 180 employees," said Bill Reminder, founder, and chief executive officer. "Over the years we grew Truck Hero into one of the most respected names in the aftermarket industry with more than 5,000 employees and 35 locations across North America."
Ryan Herman, executive vice president of sales, also weighed in on the name change and assured their trade partners that it will be "business as usual" in the days ahead.
"We've identified that the best way to reach and teach truck owners about our products and the benefits they provide is through a unified omni-channel approach in alignment with our valued wholesale and OEM partners," said Herman.
"We remain committed to growing all channels of our business, and will fuel our future growth by inspiring millions of truck owners to transform their trucks, Jeeps and off-road vehicles with the industry-leading brands we design, manufacture, and sell," Herman continued. "It will be business as usual with our professional partners who will continue to engage with our Truck Hero sales team to support the growing demand we will create for the brands we manufacture and sell."